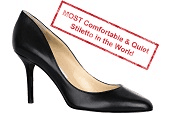 Reader J wonders how one can walk quietly in heels…
One problem I struggle with is finding shoes that don't echo down the hallway every time I take a step. As a legal assistant, I spend a lot of time running to the courthouse to file papers, etc., and I'm very conscious of the fact that my heels announce my arrival. I would love it if you could do a post about how to walk quietly!
Interesting question. My best advice, I think, is to look into getting rubber soles and rubber tips put on your heels — something a cobbler should be able to do for you fairly quickly and easily. The rubber should tread more quietly, and it should also prevent skidding (bonus!). (Update: there's now an entire brand of heels, Ssh-oes, devoted to being quiet! Pictured.)
You may also want to make sure that your shoes fit properly — if your heels are sliding out of your shoes there may be an echo effect to whatever sound you're making.
Finally, some shoes are just noisy — flip-flops, I'm looking at you — and just shouldn't be worn at the office for that reason. A lot of platform heels also have this problem, sadly.
Readers, what's your advice for how to walk quietly in heels?
(Also: don't forget to check out the Corporette Guide to Comfortable Heels if you haven't already!)