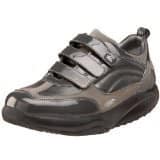 Reader and blogger
Siouxsie Law
wrote in with a suggestion for a poll about Shape-Up Shoes — as she wrote about the topic
here
, these things supposedly a) help you exercise muscles you wouldn't normally, giving you a great lower body, and b) they help your posture by engaging  your core. But… are they professional? Are they appropriate for the office? We haven't had a poll in a while, so we thought this seemed like a perfect topic for one.
(Pictured: MBT Women's Nama Casual Patent Shoe, on sale at Endless.com for $145 (were $265).)
We haven't tried any of these shoes, so we're going purely on looks. For our $.02, though, we would venture that they're fine for commuting to and from the office — particularly with pants that might otherwise drag on the ground with lower flats. That said, though, we probably would raise an eyebrow if we saw someone wearing it around an office unless that person had some kind of foot ailment that required them to wear it. Readers, tell us your thoughts: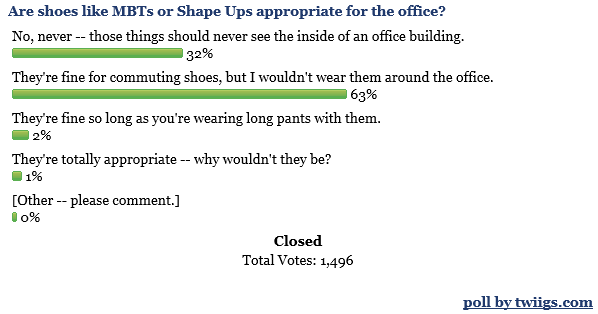 For those of you who DO wear them — please comment!
What brands are you wearing? Have you noticed a difference in your body by wearing them? From a brief survey of Zappos, in addition to
MBT
, it seems like the following brands make similar shoes:
Reebok Easytone
,
Sketchers Shape Ups
,
Avia iTone
, 
New Balance Rock & Tone
, and
Mephisto Sano Evasion
. (Are we missing any biggies? Please let us know.)