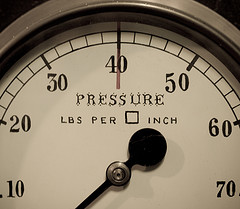 Reader D wonders about how to gracefully resist compelled charitable giving at the office — specifically, being pressured to donate to causes the company supports. Here's her question:
Around this time every year, non-profits make a big fundraising push. Do you (and your readers) think it's appropriate for employees to solicit donations from other employees for non-profits they support?

Relatedly, I have found that in many offices, there is some pressure to donate to causes or nonprofits that the company supports. While the causes may be worthy, compelled charitable giving is a little uncomfortable. Any thoughts on how to gracefully decline donating to the firm's non-profit(s) of choice?
Yeouch. This should be an interesting thread. For my own $.02, I think the senior people should really do their best to "protect" the office from this kind of compulsion (including employees pressuring employees). Anything beyond a sign-up sheet for Girl Scout cookies posted discreetly in someone's office or in a communal place — or a single email about how X is running Y race, and won't you consider donating — is, to my mind, pushy, annoying, and unprofessional.
Of course, half the time the pressure is coming from the higher-ups — I have one girlfriend whose boss puts tangible pressure on everyone to give lots of money to the charity for which he sits on the board. Classy!
(Pictured: Pressure Gauge, originally uploaded to Flickr by wwarby.)
In terms of deflecting such requests… I think this comes back to "know your own office." For some offices, the culture there may be where everyone gives to everyone else's causes, but it's some nominal amount. Other times (like my poor girlfriend) you may just have to view the charity push from the boss as a "tax" on working there, and keep that in mind when considering other job opportunities.
If there is no office culture associated with giving, though, and it's one person making strident efforts to get you to donate, I would be polite but firm: "Thanks, but I already gave at __." or even just "Thanks, but I can't contribute right now." And change the subject. Don't ask for more information, don't challenge the worth of the charity… just don't let him or her continue the sale tactic.
On the other hand, if this is a colder sell — i.e., the pressure is coming from someone you don't see regularly or have to work with — an easy way to deflect most requests for charity is to say that you only give to charities after you've studied their audited annual returns (and that you prefer to give directly to the charity rather than the local branch).
Readers, how do you deal with charitable giving in the office?