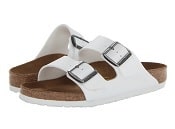 Something on your mind? Chat about it here.
Happy Fourth of July to all!
White Birkenstocks are having a moment, thanks to a lookalike shoe that was a smash hit on the Celine Spring 2013 runway and some serious fashion editor love. Personally, I'm excited that super-comfy orthopedic footwear is suddenly cool again. I'm definitely taking advantage by snagging this pair of white Birkenstocks to wear with all of my weekend basics this summer. The classic Birkenstock Arizona is available in a huge range of colors (including white!) for $89-$130 at Zappos. Birkenstock Arizona Sandal
Thanks to Stephanie from Adventures in the Stiletto Jungle for sharing her picks this week!