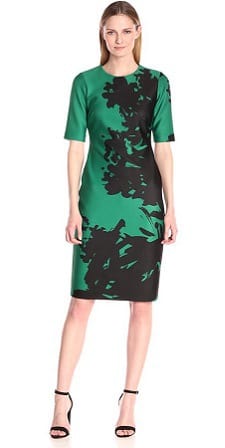 Something on your mind? Chat about it here.
Happy weekend! I don't know why, but I keep coming back to this green scuba dress. It seems like a lot of look for a weekday, so I like it more for a cocktail look — add a sparkly statement necklace and away you go. (For some reason, and I've really no idea why, it reminds me of Miss Scarlett from Clue, even though her dress was entirely different.) The dress is $94-$129, available up to size 16, over at Amazon. Anne Klein Women's Positive Negative Printed Scuba Sheath Dress
This plus-size green dress looks lovely, and this velvet green dress in regular sizes is also kind of amazing. This off the shoulder dress is much simpler but is very nice too.