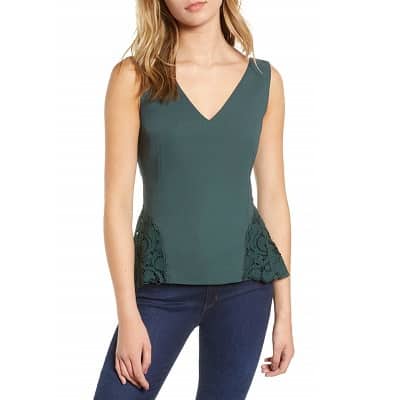 Something on your mind? Chat about it here.
Whoa: the Nordtrom Fall Sale just started, and there are a ton of great things for upcoming holiday parties as well as general work/weekend wear. I like this pretty applique tank from Chelsea28 because it's a festive, flattering color but not ostensibly "holiday" themed — and you can pair it with a slinky pencil skirt for a date night or a pair of trouser pants and sweater or blazer for a work event. (You may also want to try this on top of other shirts, particularly a turtleneck bodysuit.) I'll try to round up a few more picks below — there are a lot of really cute options. Pictured: Side Appliqué Tank, $47.40 at Nordstrom.
This post contains affiliate links and Corporette® may earn commissions for purchases made through links in this post. For more details see here. Thank you so much for your support!
Some notes on tech updates:
I think we're just about done with edits to the comments — we added gray boxes, made the comments text a smaller font and reduced the white space. I also think we got the kinks of Expand/Collapse worked out, and it's only showing the number of approved comments now.
Speaking of the moderation queue, I'm pleased to note that we're now officially testing the "approved email address" method of non-moderation (assuming you're not otherwise triggering the previous moderation queue filters). Based on testing — you have to a) fill out ANY username, b) a "real" email address (we're going to delete anything like [email protected] or [email protected]) and c) check the box to "save my name & email address for later." (See this screenshot if you're confused.) Once we approve the comment, your future comments will escape the moderation queue as long as you use that email address. (You can use a different username if you want, although it's a violation of our commenting policy to use different usernames in the same thread to make it look like multiple people agree with your position. (Just to be totally clear: submitting your email address does not sign you up for a newsletter, and any information submitted to us is still subject to The Corporette Privacy Policy (e.g., we're not going to sell it).) Please note that the new system is still subject to the old moderation queue — so if you're using uncivil language in your comment or if your IP address has been manually added then you still will find yourself in the moderation queue. As before we're going to try to keep the comments moving as quickly as possible (I've got a timer going off on my phone ever 15 minutes during busy hours!) so thank you for your patience..