Liking these posts? Follow us on Twitter or like us on Facebook — this is the edited version of what we're reading! (We also Tweet if we hear about a good sale through our CorporetteDeals Twitter feed.)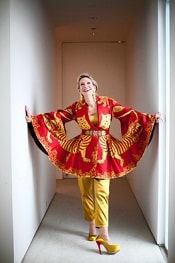 – Wow: the ABA picks up a tidbit from a WSJ article about a lawyer in her mid-20s who wears "outlandish" high-end designers to court. In related news, I am now obsessed with this $11,675 McQueen jacket (pictured) (but no, not for the office).
– What does workwear look like across the job spectrum? Already Pretty asked a few different bloggers (including me!) the question.
– Anita Bruzzese has some suggestions for how to talk to a company VIP.
– Do women "network" — or "self-promote"? Jezebel looks at the perception difference.
– Interesting:  Politico talks about the Senate Women's Dinner Club and their "civility" pact.
– Finally: Learnvest has a great chart that answers that age-old question: when is it worth it to buy organic?