Liking these posts? Follow us on Twitter or like us on Facebook — this is the edited version of what we're reading! (We also Tweet if we hear about a good sale through our CorporetteDeals Twitter feed.)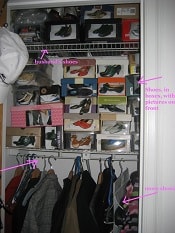 – A great reason to buy designer shoes, at the very least, right before you put your house/apartment on the market:  brokers say you'll get every penny out of them because prospective buyers will want to "step into" your life. (Clearly, I need to upgrade my shoe collection at some point before I put my apartment on the market in 3-5 years!)
– Hmmn: Fashionista insists we all try the hair bungee.
– For everyone nursing (or expecting to do so in the nearish future): WSJ's The Juggle has some tips on how to continue nursing while traveling for business.
– The Productivity Pro has some tips for how to manage a micromanager.