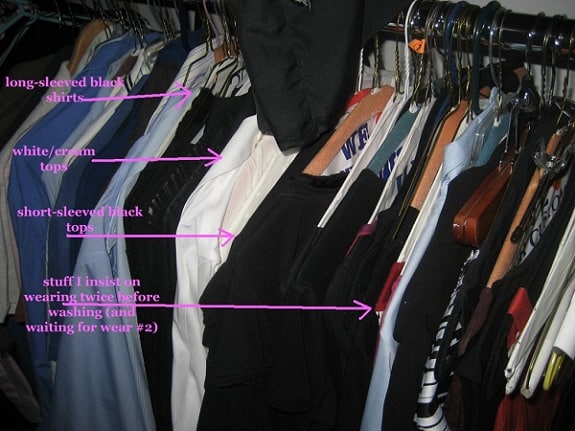 2019 Update: We still stand by this easy way to organize your closet — but you may also want to check out our latest discussion on closet organization hacks.
How do you organize your closet? Last week in our conversation of clothes storage for the closet-impaired, some folks started talking about how they kept their work clothes separate from their weekend clothes. Yes! I thought. I do that toooooooooo! But that's a whole other post! So, ladies, open thread: how do you like to organize your closets? (In fact — we haven't done this before, but if you love your closet, send us pics and we'll chose the top 5 to discuss. Either email a .jpg to [email protected], or upload to Flickr and tag it "corporette.") My own closets, after the jump…
How to Organize Your Closet in the Hall
This is our front coat closet, which I am weirdly proud of. It always seemed like the front closet has way too much lost space on the bottom and not enough well-utilized space at the top, so we decided to move the hangbar way down. (We measured my longest coat to determine where we should move the hangbar — that coat has about 3″ clearance.) With the rest of the space on top, I decided to experiment with something I'd read about for years: the shoebox storage system of shoes. (I'd always used the hanging-shoe-tree method before.) I diligently took pictures of all my shoes, and we bought a big box of clear shoebox containers from the Container Store, and we went to town. And? I. love. it. I don't "forget" which shoes I have like I did when they were in the hanging shoe tree, and I put them away much more quickly than I ever did with the shoe tree. (These are mostly my commuting/going out shoes — my day-to-day pumps generally live at the office.) Oh,and see how the hangbar rack has those little vertical stops, preventing you from sliding things from one side to the other? Hate those — we swapped them out for simple silver bars in all the other closets. (And by "we" I mean my darling, amazing husband did it.)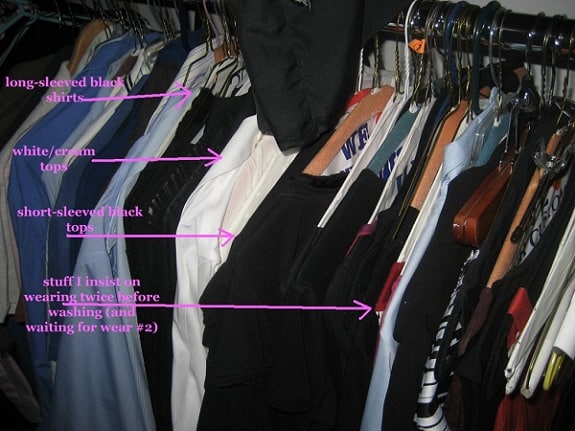 How to Organize Your Walk-In Closet
We have a small walk-in closet in our bedroom; it's split into two levels. (We have really tall ceilings in our apartment in general — somewhere in the 9.5′, 10′ range.) This pic is of the bottom level. I'm a New Yorker, so I wear a lot of black. So for this level (in addition to my husband's shirts), we have my long-sleeved black tops, then my white/cream tops, then my short-sleeved black tops, and then the random collection of "Things I Insist on Wearing Twice Before Washing That Have Not Yet Had Wear #2." I realize these pictures would be far, far prettier if I used a single hanger system but — well — I just haven't quite found the system for me. (I like the velvet hangers from BB&B just fine for dresses but prefer to use wire hangers if I'm airdrying something.)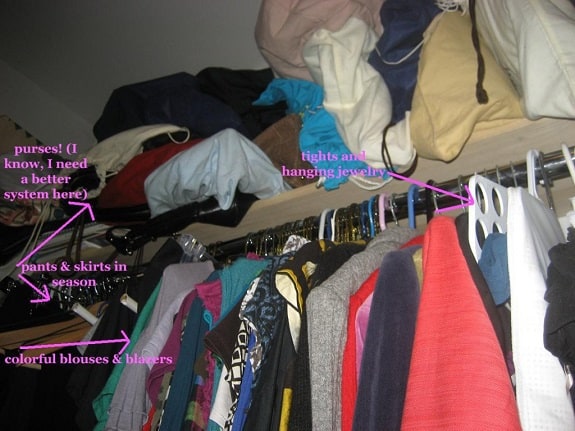 This is the top level — way far back is out-of-season stuff, and then pants and skirts in season, and then colorful blouses and blazers. I would organize them by color, but I can distinguish them just fine from a quick glance, so I've never spent the time. Farther towards the front I have hanging rack (or two) for tights, as well as one for jewelry — necklaces wrapped around business cards, brooches, and the occasional hair doo-dad. On top of the top rack, I have my purses, mostly in dust covers — I need a better system here! I wish there existed a system like the clear-shoe-boxes for purses, where you could take pictures of all of them and put them on front — that would be nice. On the opposite wall, I have another necklace rack, as well as a few other hooks for hanging things like robes, lounge-around-the-house sweatshirts, etc.
Oh, and I don't have a picture of this, but I have two drawers devoted to sweaters in our dresser — the very bottom one is colored sweaters (on the theory that I can use color to identify which sweater I want without having to dig through it) and then a few levels up (a better level for rummaging) is a drawer for black sweaters. I used to try to use sweater trays, or at least just different piles, to differentiate the sweater vests from the short-sleeved sweaters from the cardigans from the long-sleeved sweaters from the turtlenecks… but that drawer is always a hot mess. If anyone has any suggestions… :)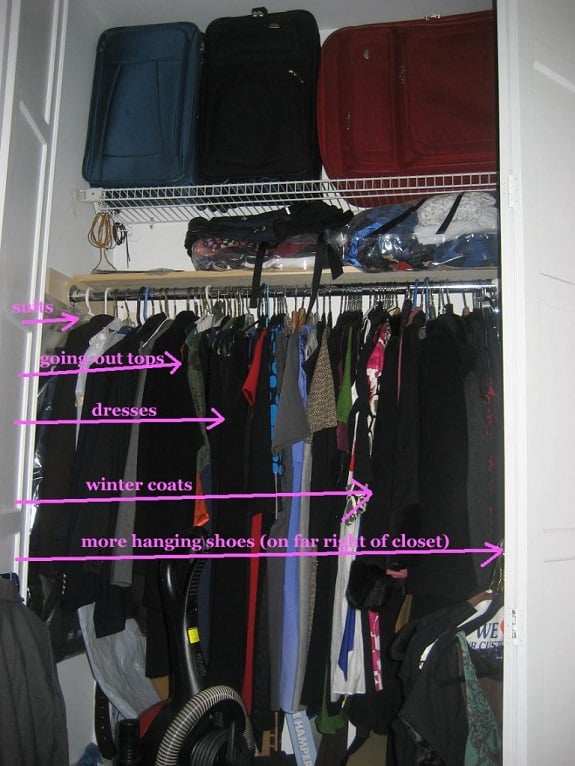 How to Organize Your Closet In The Guest Bedroom
And, finally, we have the "guest bedroom/office" closet which, at the moment, my husband has let me have almost entirely. (Thank you, hubs!) This is where my suits live, as well as my going-out/occasional tops, my dresses, my winter coats (for now) and at the far right, more hanging shoes.
All right, readers — how do you organize your closet? What systems do you love, which areas need improvement? And, send us pics of your amazing closets!