Liking these posts? Follow us on Twitter or like us on Facebook — this is the edited version of what we're reading! (We also Tweet if we hear about a good sale through our CorporetteDeals Twitter feed.)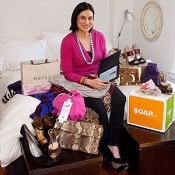 – The New York Post profiles some women with "shopping bulimia" — they order, then send 90% of everything back.  (I am totally guilty of this — I even have a system for remembering when to expect what I ordered, when to return something, and when to expect a refund.)
– Great post from Extra Petite about how to project authority and confidence, even if clients ask you if you're 12 because of your stature.
– Forbes Woman has the good news and the bad news about International Women's Day.
– Fun iPhone app of the day: TaskAware, which reminds you of different errands when you're physically nearby. (Hat tip: Lifehacker.)
– Learnvest collects some wise money advise from women over 50.
– Finally: The Wall Street Journal has a few suggestions for where to stash your cash now that interest rates are near zero.