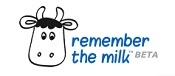 I've posted before of my love for Remember the Milk, but it's come up in two separate conversations I had recently, so I thought I'd post on it again.
As a reminder, this is a free, web-based application, and it e-mails you when your "due date" is up. (You can also check items off it before the due date, and e-mail it "to dos" from your Blackberry — it's also available as a free "app" on the iPhone and Android, I believe). I head there at least 4-5 times a week for the following kinds of things:
a) Online purchases – If, say, you've done a lot of online buying recently (cough, cough — great sales, I swear!) — then this can be handy to remember what you think is arriving in the mail, as well as by when. (Or am I the only one who returns home sometimes to be surprised by a delivery of clothes I hadn't remembered ordering?) If I remember, I'll also add "return by" dates as separate to-dos… and if I actually do return something I try to generally ballpark a date (yet another task) by when I should have received the refund on my credit card.
b) Group Coupons – If you're a fan of the group-buying sites, it can be a total pain to remember what restaurants / spa treatments / etc. you've got discounts for, and by when those coupons/vouchers/discounts expire. Enter Remember the Milk… I just throw everything in the bucket and it reminds me what deals are about to expire, by when. (If you're curious what group-buying sites I'm a member of (and want invite codes), click here — there are so, so many! And really good deals. (In fact, the deals are SO good that Business Insider recently(ish) opined that "there are now so many daily deals for these services that anyone who lives in a major city and pays full price for a massage is being lazy and financially irresponsible."))
c) Expirations – I blogged about this before, but I really do use it to remind myself of expirations — just in the past few months I've been reminded that some prescription eye drops went bad, and that I should really use that quinoa I bought a zillion years ago. (I made a ton of "pork-fried rice" with it, using healthier ingredients, and froze it for later eating.)
d) Paperless Bills – If, like me, you've switched a lot of your bills away from the paper statements (and, like me, you get a zillion emails a day and those reminders tend to get lost in the shuffle), this program can be really helpful. For some, it's because we forget to pay them without the reminder (like, say, my husband's student loans); for others it's because we want to make sure we have enough money in the account for an automatic payment (like, say, the mortgage).
e) Blogging – For blogging purposes, I also use it to remind myself of great things I've seen while shopping/researching something on line and might want to post about it later. (I've found that for this blog, most of the posts are difficult to write far in advance because a lot of the products sell out or have drastically reduced quantities by the time I see something, and I do make best efforts to blog about things with lots of sizes in stock.) (It's also a good "test" — I liked it then, do I like it now also?)
In terms of HOW I use it — I tend to type one sentence reminders in the text box, trying to remind myself of two dates: the date the item ACTUALLY expires, and the date I want to be reminded of it. So I'll type something like this: "use Scoop Street 50% off coupon at B. Smith's near W.46 – expires 10/30/2011 – due 9.1.2011" — it reminds me of the important things (which site I have to go to for the voucher, where the restaurant is, when the coupon expires, and when I want to be reminded of it. RTM will automatically convert that "due 9/1/2011" phrase to a deadline. (You can also say things like "due tuesday" or "due four tuesdays from now," and the program will figure it out.)
Here's a screencap of my main page: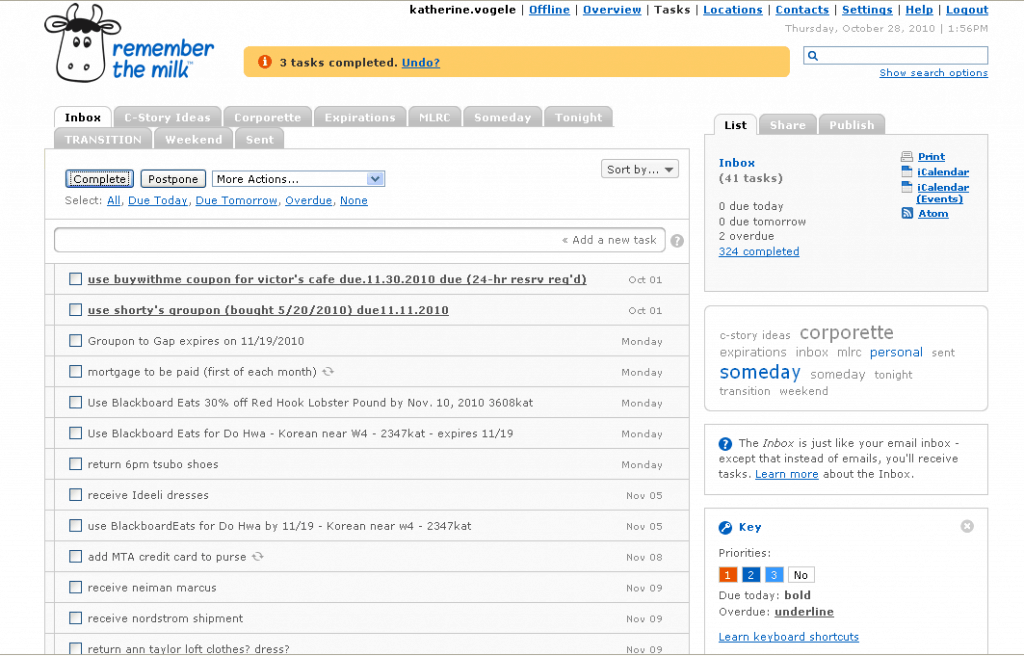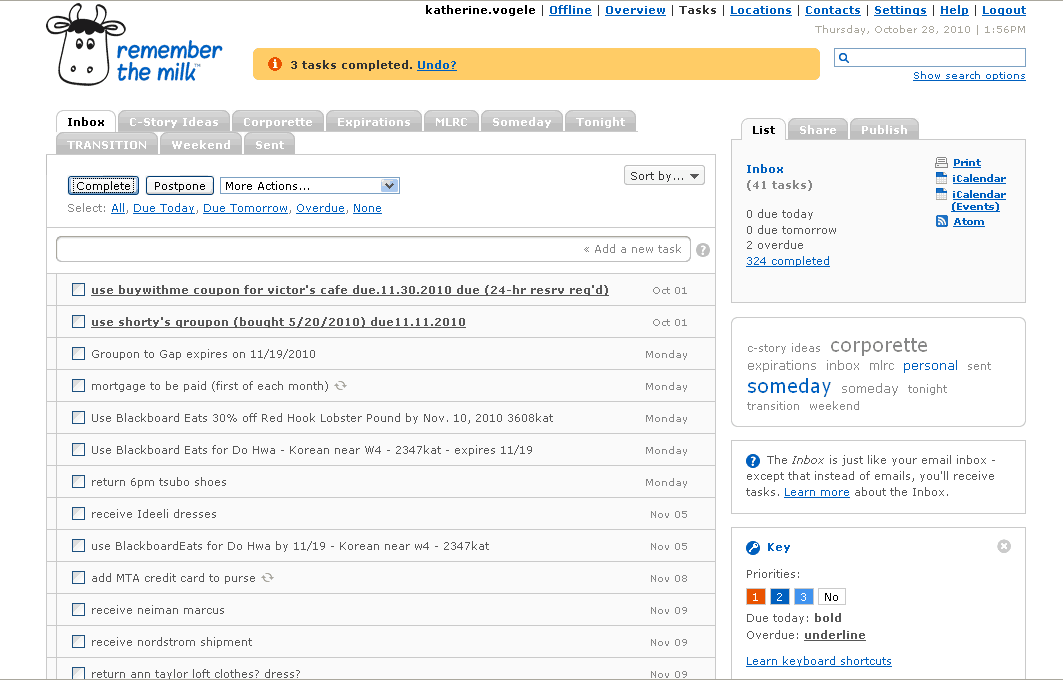 Readers, do you have a handy to-do program? How do you remember some of the dates/tasks I've outlined above?