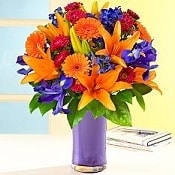 Liking these posts? Follow us on Twitter or like us on Facebook — this is the edited version of what we're reading! (We also Tweet if we hear about a good sale.)
– Next Wednesday is Administrative Assistant's Day — plan accordingly.  (Our $.02:  We recommend a combination gift of cash and flowers — ProFlowers has some good deals, like the very lovely Gerbera Daisies, pictured, for $49.)  On Wednesday, we'll be in Louisville for our next AK Anne Klein event — please come out! You can RSVP at [email protected]
– Slate takes a look at the "Mommy Track," 21 years after people first began talking about it.  Meanwhile, ReadWriteWeb wonders why there are so few women venture capitalists and founders.  Also, Ms. JD has a good round-up of ways to contribute to April 20th, "Equal Pay Day."
– Gretchen Rubin guest blogs at Above the Law to talk about happiness for lawyers.
– The Bucks blog recommends ways to find a better rewards credit card with little fuss.
Many thanks to this week's advertisers:
– AK Anne Klein
– Carissa Rose
– MySkins
– As well as our advertisers through BlogAds!