Liking these posts? Follow us on Twitter or like us on Facebook — this is the edited version of what we're reading! (We also Tweet if we hear about a good sale through our CorporetteDeals Twitter feed.)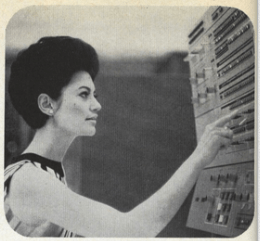 – In today's blast from the past:  FogCreek Software Blog pulls up an old article on women programmers (which notes that women are a natural fit for computer programming jobs because "it's just like planning a dinner") and wonders where all the lady coders have gone today.  Speaking of women and advancement, The Careerist expresses her outrage at an article in The Economist that suggests that women aren't equal with men because they take too much time to balance family life.  (Also interesting reading:  a blogger at Ms. JD compares women who quit after taking maternity leave to thieves, and the WSJ's Juggle blog examines a new study on whether there's a "tipping point" that creates SAHMs.)
– Lisa at Privilege wonders why some clothing items are so universally reviled (although hey, I did advise her to burn her scrunchie back in 2009).  Meanwhile, Angie at YouLookFab wonders whether leather jackets are acceptable business casual attire, and Sal at Already Pretty considers how one balances contrasting styles.
– Readers traveling by yourselves, stay alert — according to the NYT, hotel safety is becoming a growing issue.  Perhaps now is a good time to brush up on self-defense moves that everyone can do, which Lifehacker has helpfully rounded up.
– Learnvest has some suggestions for how to leave your job on good terms.  (I offered my advice on how to quit gracefully a few months ago.)
– Lifehacker advises you create a "to stop" list to get more done.  Meanwhile, Mint rounds up some websites to help you run an efficient kitchen.