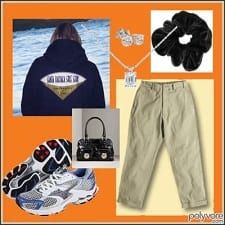 We've been mulling this reader's question for a while now… first, here's the request:
My work wardrobe after 30 years is pretty set. However, I'm currently in recession mode, i.e. my job has been misplaced. I find that my non-work clothes are just not suitable for walking around in the supermarket, given that in my community (high tech in Silicon Valley) I might meet someone there who would hire me. So I want to upgrade what would be my weekend wardrobe (if I were working).

Can you help? I have my dilemma posted here. I hope this doesn't take you beyond the scope of your blog, but once we get to the executive ranks, I have found that networking etc. can extend the requirements and definition of "professional style".
We went to her website, and this is what she wore out to drinks with former coworkers: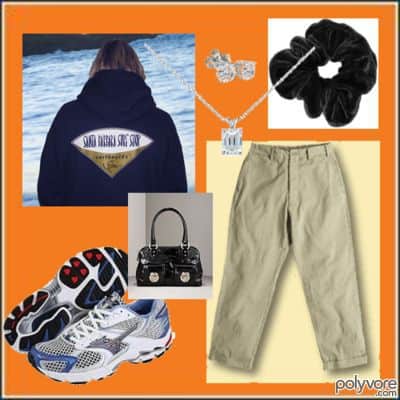 Wow. Ok. First, some general theories on being "laid off and looking," as the WSJ puts it.
Keep your confidence high — don't wear sweats or other clothes that you would normally use to clean the garage. Networking is a lot about likeability; the more a person likes you — and respects you and thinks you're competent and cool — the more they're going to be willing to introduce you to their friends or, should a job open up, think "Oh, let's get X in here; she'd be great for the spot and fun to work with."
So our advice here is kind of like advice to teenagers: act cool, and you WILL be cool. Above all, your clothes should be clean, non-ripped, and the overall vibe you should strive to give off is "I'm just running a few errands before my fabulous dinner party," not "I'm making an emergency run to the pharmacy in the middle of the night."
That said, for running errands and lounging around the house, we recommend wearing the tightest pair of jeans that you own and fit into comfortably (so as to prevent any recession weight gain, or at least recognize it early). They shouldn't be skintight, but they should FIT — no elastic waists or pants that are several sizes too big for you.
This post contains affiliate links and Corporette® may earn commissions for purchases made through links in this post. For more details see here. Thank you so much for your support!
There is plenty of advice to be found on the Internet and in ladies' magazines about which jeans might work for you, and a huge price range to consider (from $20 to $300+).
Generally, we would recommend finding a dark color in a bootcut or straight-leg style; if you get one with a bit of lycra in it, it will be more comfortable for hanging out around the house. Check Levi's or Uniqlo if you're on a budget; we've also heard excellent things about Old Navy's jeans.
If you are really, really not a jeans person, we would possibly recommend some bootcut khakis or pants with a bit of stretch, such as these from Gap, also at right. Again, the leg should be straight or bootcut unless you can really own the other trends out there like the skinny pants or the boyfriend jeans.
Ok. So now that you've got your jeans on, let's ditch the scrunchie. (You could burn it. Just a suggestion.) Instead, you may want to look into an understated claw or some elastics.
This is a reader favorite clip!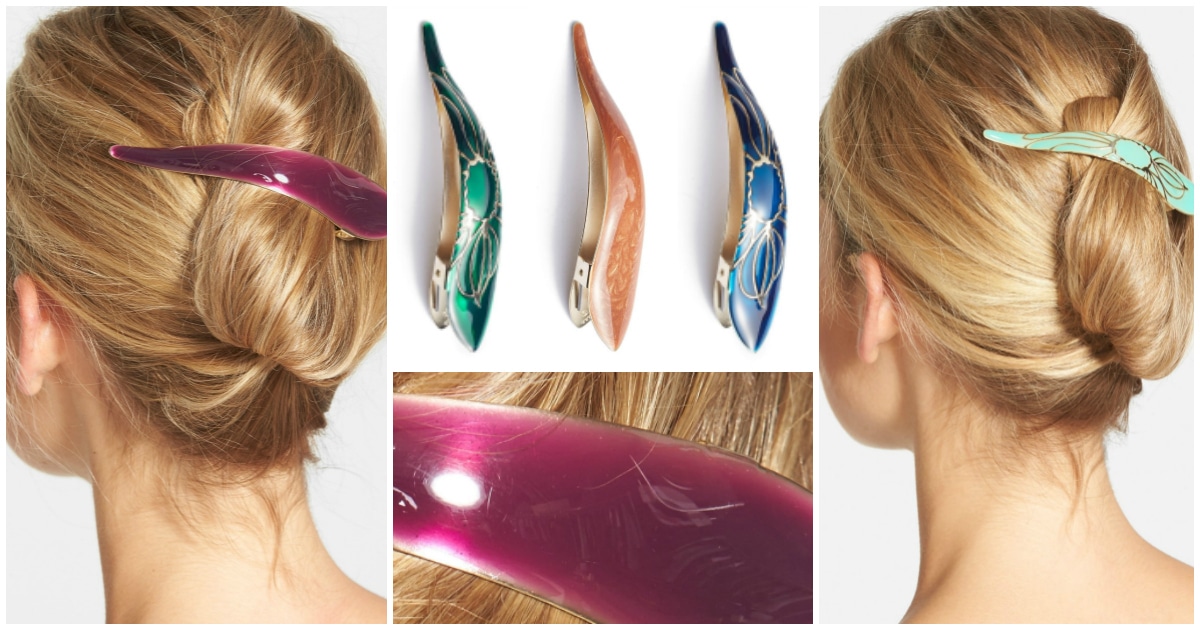 Now, let's ditch the sweatshirt. We would recommend wearing a well-fitting t-shirt in a basic color — black, white, your favorite color, whatever. By "well-fitting" we mean that it should skim your body (not hugging it, and not too boxy) and hit at the right spot on your hips (not too high — the belly shirt has (thankfully) not made a return since the late '90s — and not too low, either, as the uber-low movement seems to have passed).
Again, there's a big variety, but the stores for basics — Old Navy, Gap, Banana, J.Crew — are going to be your friends here.
Next, the shoes and the jacket, which are, simultaneously, the easiest and hardest parts. We say "easy" because this is your personality shining through, but it's also hard just because there are so many options.
Assuming the shoes you wore at work are either uncomfortable or inappropriate for running around town, there are still a ton of feminine, comfortable options that are far, far better than white athletic shoes. For example, some choices for the shoes:
Low Mary-Janes or ballet flats are a great look that can be worn with socks or not.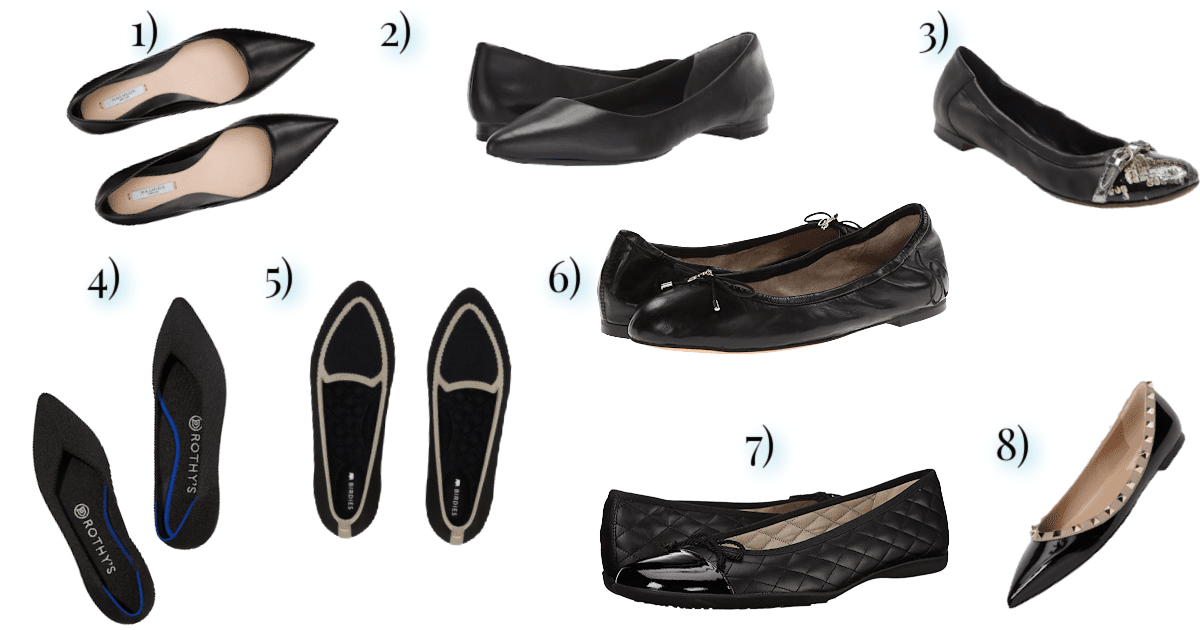 Use the arrows to see all of our latest favorite strappy flats as of 2021 — or click here to see recently-featured strappy flats. (Also this one!)

White sneakers with a heavy tread are fine for working out, but there are a ton of more fashionable, sporty shoes that serve as great "running errand" shoes. Some sample brands to consider: Converse, Puma, Keds, and Asics.
Psst: We've actually had a conversation about what your weekend sneakers say about you if you want to check it out!
Pictured below (by color), Row 1: black / gray / gray / white; Row 2: white / white / green / black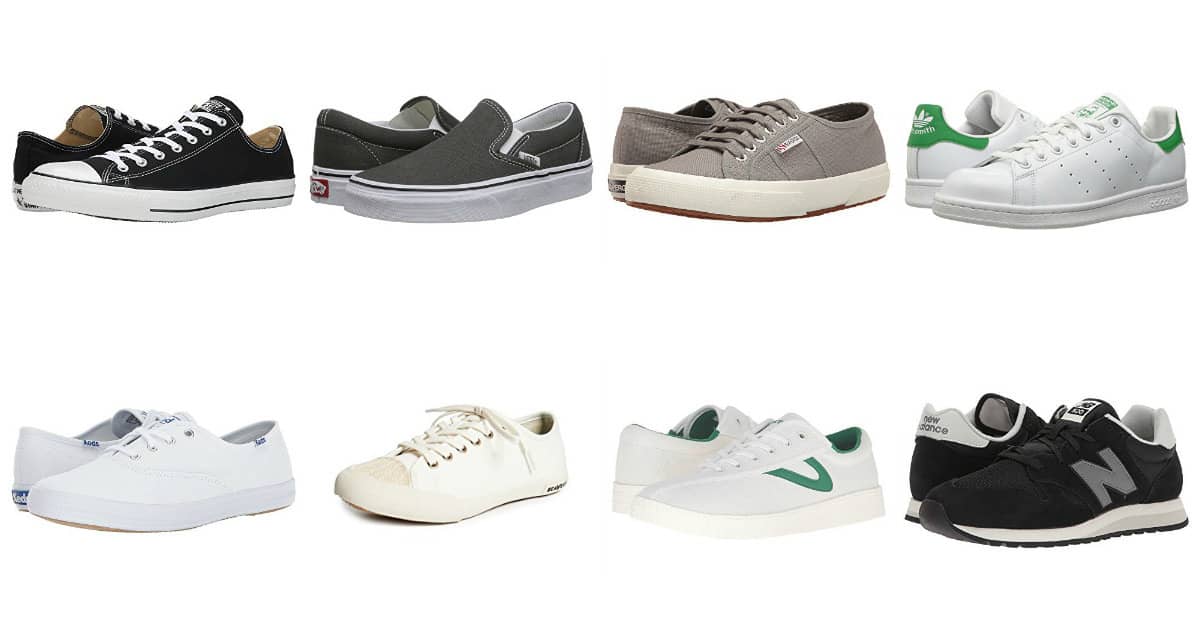 Pictured above (by brand name):
Row 1: Converse / Vans / Superga / adidas Stan Smith
Row 2: Keds / SeaVees / Tretorns / New Balance
There are a ton of other brands out there that might be a bit too chunky for the office, but are great for running around town and staying comfortable. Some brands to consider: Clarks, Born, Sofft, Beautifeel, and Dansko.
Next, you'll need a light jacket — again, there are a ton of options but pretty much anything is better than a sweatshirt.
One option is a fitted blazer in a casual fabric — twill, cotton, even a non-blue denim — can be great for running around town. In fact, you may already have some of these in your collection.
2023 Update: Some of our favorite blazers to wear as separates include: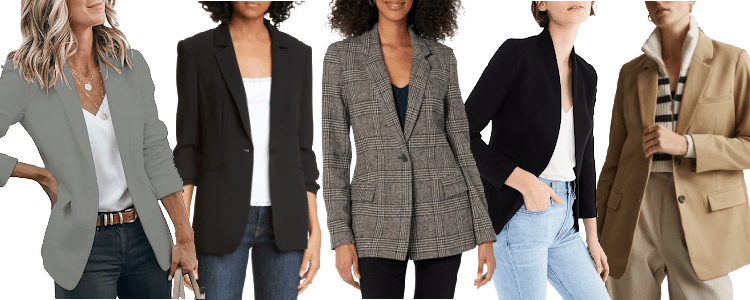 Some fun jackets-as-separates to try:

Traditional ladycoats are another great option, and also available in a huge variety of price points. You're looking for a fabric that's breathable and machine washable, in a cut that is flattering to you — it shouldn't be too big and overwhelm your stature, and it shouldn't be too tight, either.
Hunting for a lightweight jacket? Classics include the designer trench ($$$$), as well as this affordable reader favorite rain coat, this classic packable raincoat, this sporty moto coat, and this long cardigan for warmer days! Know your office before wearing a jean jacket with your outfit, but if you're on the hunt, this one is a bestseller every year. Check out some of our latest, trendy favorites for 2023 are below!

Cardigans and sweaters are another great option (and can be cleaned sporadically when worn with a t-shirt or something with sleeves beneath it). Some are even made from sweatshirt materials like fleece.

Best of luck to you in your search — readers, please tell us if you have other thoughts on what to wear when you're looking!