Liking these posts? Follow us on Twitter or like us on Facebook — this is the edited version of what we're reading! (We also Tweet if we hear about a good sale through our CorporetteDeals Twitter feed.)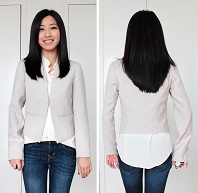 – Awesome: ExtraPetite shows you how to do your own slimming and shortening on blazer sleeves.
– The NYT reports that men are feeling more pressure to look young and awake and are buying more products to compensate.
– The Chicago Tribune reports on the top 5 fashion videos on YouTube in 2011.
– The Careerist has an interesting interview with Yale Law professor and "Tiger Mom," Amy Chua — among other things she talks about struggling with what she wanted to do with her life and feeling like a fraud while practicing law.
– The Atlantic notes that lawyers and bankers lost jobs in 2011.  Let's hope for a stronger recovery in 2012! (Hat tip: Above the Law.)
– SavvySugar rounds up 4 things to not talk about with coworkers.  Meanwhile, Lifehacker suggests some ways to "say no without sounding like an asshole."
– Inc. has tips on the proper way to wine and dine a client or customer.
Did we miss anything? Add 'em here, or send them to [email protected] Thank you!