Liking these posts? Follow us on Twitter or like us on Facebook — this is the edited version of what we're reading! (We also Tweet if we hear about a good sale through our CorporetteDeals Twitter feed.)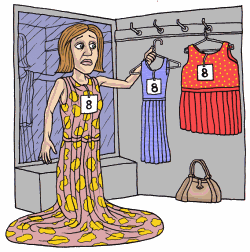 – Slate has an interesting article on clothing sizes.
– Both AlreadyPretty and Lisa from Privilege discuss how to step outside your sartorial comfort zone.
– Lucky rounds up the 10 things you still can't purchase online.
– The Careerist calls BS on Working Mother's list of Top 15 Jobs You Can Do From Home.  Meanwhile, Jezebel shares their take on a CNN story about how working too much can"depress the hell out of you."
– SavvySugar has some suggestions on how to annoy your boss. The WSJ has some tips on how to get your resume seen in an era when many companies use computers to screen out "about half" of all resumes.
– Two personal notes:  Independent Fashion Bloggers was kind enough to feature me as their "Professional Blogger of the Week."  I'll also be speaking at the IFB conference on February 8.
Did we miss anything? Add 'em here, or send them to [email protected] Thank you!