Liking these posts? Follow us on Twitter or like us on Facebook — this is the edited version of what we're reading! (We also Tweet if we hear about a good sale through our CorporetteDeals Twitter feed.) You can also follow us on Pinterest.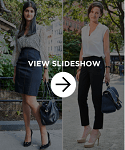 – Refinery29 profiles 3 chic finance girls and their desk to dinner looks.
– Belle rounds up her favorite camisoles at Capitol Hill Style (although I disagree with her on one point: I think nude camisoles are inappropriate for the office).
– The Careerist complains about Hillary Clinton's long hair, and Above the Law's Staci Zaretsky opines that if you're good at your job, your hairstyle shouldn't matter.
– Do executive women (the ones who can afford 2-3 nannies and baby nurses) need maternity leave?  The NYT wonders, and the WSJ's The Juggle wishes Marissa Mayer the best (but raises a lot of the reasons why maternity leaves are generally useful).
– Are you the family breadwinner — and if so, how does that affect your marriage?  Both the WSJ and More Worth look at the issue.
– The Jane Dough recommends the 15 best companies for women.  Meanwhile, Savvy Sugar wonders whether the office is like middle school.
– There are a ton of great travel tips in this NYT article.
Did we miss anything? Add 'em here, or send them to [email protected] Thank you!