Like these posts? Follow us on Twitter or Facebook — this is the edited version of what we're reading! (We also Tweet if we hear about a good sale through our CorporetteDeals Twitter feed.) You can also follow us on Pinterest.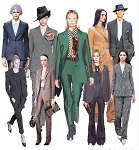 – The WSJ looks at the new power suit for women.
– OnlineMBA has some advice for how to build a business wardrobe from the bottom up.
– Dina at Eye4Style has some great advice on how to interview for a job in fashion (along with some great general advice).
– The Careerist reviews the dismal numbers for senior women in BigLaw.  (Can anyone point me to a survey of what women do AFTER BigLaw? I seem to remember seeing something about how no one tracks it.)
– SavvySugar has an exact script for you to use to negotiate your starting salary.
– (Old news, but it's now online: Real Simple has an article about what not to wear to work, and features me as an expert.  Thank you, Real Simple!)
Did we miss anything? Add 'em here, or send them to [email protected] Thank you!