Liking these posts? Follow Corporette on Twitter — this is the edited version of what we're reading! (We also Tweet if we hear about a good sale.)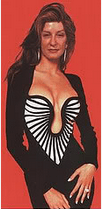 – Wow — we're not sure how we missed this last month, but Above the Law brings news that this lawyer (pictured at left) has changed her profile picture to a more sedate one. ATL notes that they prefer the former, "mildly inappropriate" pic. Our thought:  mildly?
– Lots of features on inspiring, successful women this week: Forbes introduces us to the leading ladies of Hollywood, while Inc. (our favorite magazine, incidentally) includes several women in their "30 under 30" roundup of young entrepreneurs.
– Also lots of thoughts on women in the law this week. The American Lawyer wonders if the bad economy is good for women lawyers; meanwhile, the WSJ's Law Blog wonders how to get more women partners. The American Lawyer also ponders a paradigm shift: the power-lawyer mom, and the stay at home dad.
– Our commenters have been mourning the demise of the old Ann Taylor, but SheFinds likes the new one. (For our $.02, the  jury is still out.)
– The Chicago Tribune tests four pumps for comfort and style.
– Teri Agins at the WSJ weighs in on when it's appropriate/acceptable to take a purse to a business meeting.