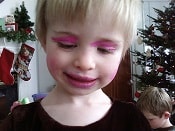 2017 Update: Check out our latest discussion on the best interview makeup!
Today's reader mail is another request for interview advice, this time in terms of makeup…
I have several on campus interviews for 1L summer jobs the first week in February. I have my conservative gray and black suits. I have my sensible Nine West pumps. I have worked on pulling my hair back off my face. The only piece of the puzzle I do not feel confident about is makeup. I have heard that minimal is the way to go, and I wasn't planning on breaking out my extensive color palette for eyeshadow or lipstick. But how conservative should I go? Are we talking just foundation to cover flaws? Mascara and lip gloss? Neutral eyeliner and eyeshadow?
To be honest, we've never really thought much about what makeup to wear when we interview — but then, we tend to be somewhat boring in terms of daily makeup, to the tune of just varying the eye shadow color from day to day. So we're curious what the readers have to say on this one. (Pictured:  This is why you don't give little girls makeup, originally uploaded to Flickr by Checkered and aMUSEd.) For our $.02, the makeup you wear should have two goals:
Making you look awake and alive
Not distracting the interviewer
For us, this translates as follows:
In terms of looking awake and alive:  every woman has her level of necessary makeup, which, if she leaves the house without, will inspire responses ranging from "Wow, are you feeling okay?" to "Get the shotgun, Pa, the zombies are attacking again." For us, this bare minimum is a) undereye concealer (we like Neutrogena 3-in-1 Concealer for Eyes
), b) blush (lately we've liked Benefit Cosmetics Benetint 0.4 oz Benetint
), c) curled eyelashes (we swear by shu uemura Eyelash Curler
). But that's just us — other women feel naked without foundation; others feel naked without eyeliner. Figure out what you need to look awake, well-rested, not ill, etc., and then be sure to wear those products. (We're not saying not to wear more — our own daily regimen, for what it's worth, also includes brown or black eyeliner, neutral eye shadow, eyebrow powder, and mascara. We wouldn't interview without those things on. However, the interview makeup tip we pass on in terms of requirements is that don't-look-like-you-were-out-all-last-night-partying-or-possibly-have-an-alien-creature-living-inside-you one.
In terms of not distracting the interviewer, things you want to avoid include: a) anything sparkly, b) anything too stagey (hello, false eyelashes or blue eyeshadow), c) anything applied poorly (for example, we almost never wear foundation, so for us this would be a danger zone because we'd probably be walking around with it improperly blended), d) anything that fades unevenly. With regards to (d), we're primarily thinking of red lipstick, which we think can look amazing — but no matter how carefully we apply it, it always wears unevenly and starts to fade at the center of our lips more than at the outer line of our lips. This is obviously not the rule — we were fascinated to note the number of speakers wearing red lipstick at a recent conference we attended — but for us, that's the harsh truth. We would also add the obvious thing — make sure your makeup flatters you. For example, if you never wear lipstick because it always turns an ugly coral shade on you, don't feel obliged to wear lipstick to an interview. No interviewer will sit there wondering, "God, why isn't she wearing lipstick?", but they mightsit there wondering, "God, her perception of reality must be OFF if she thinks that lipstick looks good on her."
In fact, the only thing we might do differently for an interview would be to very carefully apply a long-lasting lipstick (we're fans of L'Oreal's Infallible LipColour) to last the interview, particularly if lunch is included in the day.
Readers, what are your thoughts on the matter?