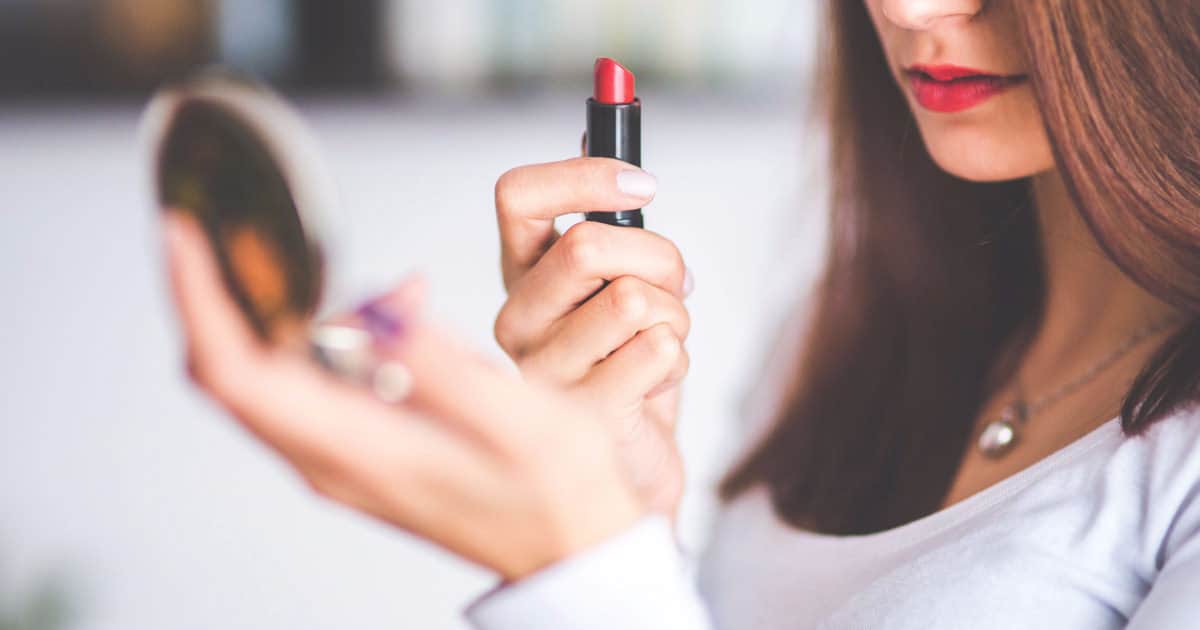 We haven't talked about what makeup to wear while interviewing in far too long, so let's discuss: what makeup do you consider a must for interviewing? How does your interview makeup differ from your everyday makeup? What are your best interview makeup tips in general?
I've noted before that I think the main purpose of interview makeup is to make you look awake and alive.
Otherwise, makeup should be such that it removes itself from the hiring equation — your interviewer should not notice your makeup, and you shouldn't be distracted from your makeup.
Along those lines, this is what my interview makeup looks like:
Concealer.  This is a must for me and the dark circles under my eyes. Lately I'm using iT Cosmetics concealer (see all my makeup favorites, below).
An even skin tone.  For some women this means foundation; for some women this means bare skin is fine. For me right now I like the middle road, which is BareMinerals — another middle road would be a BB cream or a tinted moisturizer. If you DO choose to go with foundation, note that it has to be the right shade, and blended well — evaluate yourself in multiple different lights, as well as from different angles, to make sure that your foundation is not a faux pas.
Bronzer or blush.  Most winter long I've been wearing much more bronzer than blush because it makes me look alive, yet suits my generally minimal makeup routine. I will note that it is far easier to find the right shade of blush than bronzer, though — some are too orange, some too brown, some too cakey, etc. Right now I like NYC Bronzing Powder in Sunny, which I heard about somewhere as a good dupe for something I no longer remember. For an interview I would also add a touch of blush to the apples of my cheeks for a bit more fresh-faced color; I'm still liking the Tarte Amazonian Clay 12-Hour Blush.
Mascara and eyeliner.  For me there is a big, big difference in how I look without these two things — I just feel that much more put together when wearing them.
Watch out for eyeliner applied incorrectly (I'd probably go with a pencil liner versus a liquid liner for this very reason), as well as for issues stemming from your mascara such as flakes, raccoon eyes, or mascara on your eyelids.
All of the above are pretty much my wear-everyday-no-matter-what look (minus the Bare Minerals — I also use a liquid liner more often because, while it is far easier to go wrong, I find it quicker to apply).
Extra Products I'd Add for Interview Makeup
Probably at least two shades of neutral eyeshadow, one for a touch of color over my entire lower lid, and one for a bit of contouring in my eyelid crease. Right now I really like two old colors I've had for a while, both from Bobbi Brown: Bronzed Pink (for base) and Cognac (for the crease). Another option: this very popular palette from Urban Decay.
Brow pencil (and definitely well-groomed eybrows).  Even though I'm a brunette, I feel like the brown colors are always too overwhelming, so I usually choose a blonde pencil. I'm kind of on the hunt for a new one here, to be honest — Anastasia is fine for now. 2017 Update: I like Glossier's Boy Brow, but it takes a bit of getting used to — don't try to use it for the first time the day of an interview!
Unmoveable lipstick.  This is one of those big things that you don't want to be distracted by — you don't want to have to reapply it mid-day if you have multiple interviews, you don't want to suddenly realize it's on your teeth, and you don't want to wonder how or if it's fading.
So for an interview I would avoid a red lip and stick with a fairly neutral shade — as much as I love my mauves I'd probably stick with a toffee or caramel shade. 
The final step — the unmoveable lip — is different than my general workday makeup because I sometimes find long-wearing lipsticks to be drying, but maybe that's just me.
Just to contrast interview makeup from workday makeup from makeup looks for different occasions: for desk to dinner makeup I might touch up my concealer with something like Touche Eclat, or add something with more sparkle like Nars the Multiple in Orgasm.
For weekend party makeup I generally do a smoky eye with various dark shades like chocolate, black, dark gray, or occasionally a teensy pop of royal blue or bright purple.
My work-from-home/daily makeup is pictured below; it's a super short makeup routine!
Ladies, what does YOUR interview makeup look like? Have you ever been on either side of an interview where there was a regrettable makeup decision? Do you have any favorite YouTube tutorials or the like for interview makeup?
As of 2023, my short makeup routine is pretty boring — curled eyelashes + concealer + blush (Nars Orgasm) + powder, with a different lipstick and eyeliner depending on my mood. If I'm feeling extra fancy I'll add mascara, highlighter, and/or do my brows with this cream and this brush (here's my review). (I also add eye shadows in the "extra" days but it's a huge variety, maybe 25 or so different ones.)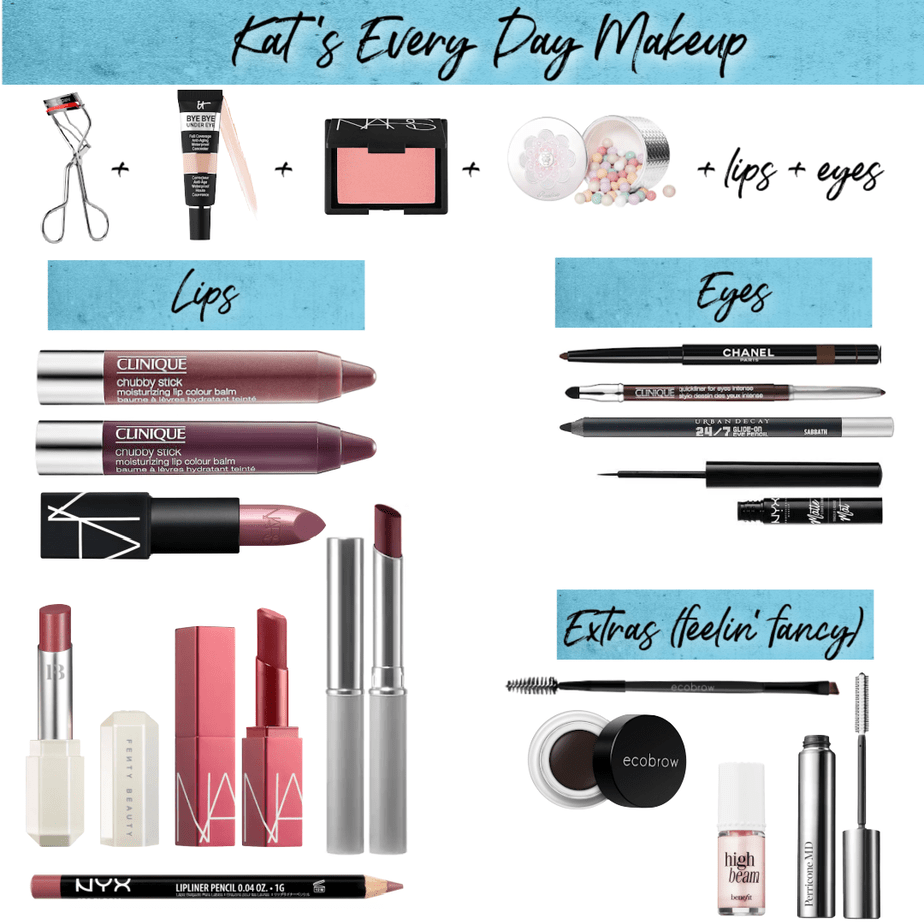 Some favorite lipsticks include Clinique (Graped Up & Voluminous Violet), NARS lipstick (Damage), Fenty (Goji Gang), NARS gloss (Orgasm, Fast Lane), and Clinique (Black Honey). I use this NYX lipliner (Natural) for almost all of them.
Favorite eyeliners include Chanel (Espresso), Urban Decay (Sabbath, Smoke), Clinique (Intense Chocolate & Plum), and this NYX liquid one.