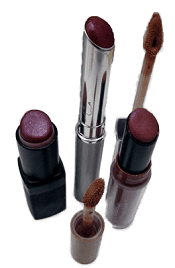 2018 update: We still stand by our advice here on makeup for work, but you may want to check out our more recent discussion about how much makeup you wear for work.
How much makeup do you wear on a daily basis to work? How often do you change it up?  I saw a recent quote in the Huffington Post about how the editor of Elle Magazine says that makeup for work isn't as necessary as you think, and it's better to wear less when you're young. We've talked before about what makeup to wear for interviewing, whether makeup makes you look more competent, and in this blog's early days we had a really poorly constructed poll about what makeup you wear daily. So I thought today might be a fun open thread: what makeup do you wear on a daily basis? Are there days when you step it up at work — for example, will you wear more makeup if you're giving a presentation or have a big meeting? Do you change your makeup on a daily basis, such as to better match your outfits? Do you change your makeup for the seasons? On the flip side, have you ever judged a coworker for her makeup choices?
For my $.02, I always consider my bare essentials to be curled eyelashes, blush, and concealer under my eyes — it's a rare day when I leave the house without those on. For a daily makeup look, I usually wear (in addition to blush and concealer and curled eyelashes):
– eyebrow pencil
– eyeliner
– mascara
– lipliner
– lipstick
As for changing it up on a daily basis, I almost never change it, at least intentionally — I may grab a different blush in the morning, or end up with a smokier eye than intended because I screwed up my eyeliner, but the concept of matching my makeup to my outfit isn't really something I do. I do change products over time as things run out or I fall into different ruts, and I do change products with the seasons (for example, right now switching from the powdered NARS Orgasm back to Benetint, and from liquid eyeliner back to a pencil). For a big meeting, or when I was working on a trial, the biggest change I'll make to my makeup is to make it more long lasting — I'll use a waterproof eyeliner or an extended wear lipstick like Infallible — but it's my way of removing makeup from the list of things to worry about so I can focus better on the meeting or whatever.
As for judging coworkers… yeah, I'll admit I've done it, at least in terms of first impressions. Some people (with very made-up faces) just seemed vain, like they prioritized makeup and their appearance over other things… other people (with horrible lipstick colors, repeated day after day) seemed lacking a certain level of judgment. Like I said, though, these were just first impressions — but I do think makeup matters in the workplace.
Readers, your turn — how much makeup do you wear to work? Do you change it up? How does makeup affect your views of your coworkers?
(Pictured above: a few of my current lipstick choices: NARS Shrinagar, Clinique Lovely Honey, Infallible Barely Nude, Revlon Colorstay Supermodel, L'oreal Infallible Nutmeg.)
(L-all)