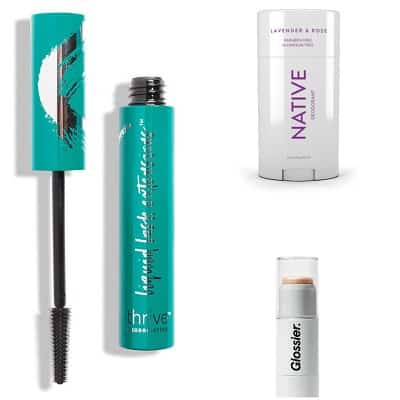 There are so many brands now that don't seem to exist in the main stores but are huge driving forces because of social media — so what online-only beauty brands have you tried based on social media ads? What do you love, what was a waste of money? Some notes from me…
This post contains affiliate links and Corporette® may earn commissions for purchases made through links in this post. For more details see here. Thank you so much for your support!
Glossier – I forget which product I kept seeing online that made me try Glossier, but a lot of the ones I've tried are in my regular rotation, including their Milky Jelly cleanser, their highlighter (Haloscope) and their lash tint (even I can wear it and mascara often bugs me). I've also tried their scent (like but don't love), Boy Brow (not the best for my sparse eyebrows), and the Generation G lip gloss (too dry for me). I still have a good liquid blush but I'd try their CloudPaint next.
Thrive Causemetics – I finally bit the bullet because I wanted to try their mascara; about a month ago I wound up ordering that as well as a lip gloss, a lip liner, and a navy eyeliner. I'm still figuring out how I feel about all of them, to be honest — the mascara seemed a bit gloppy on first applications but it's definitely more volumizing than the Glossier mascara.
The lip liner seems more moisturizing than my MAC one and is unnoticeable. At first I really liked the glossy lip but now I wonder if it's too "wet" for daily life (my coffee cup gets totally covered in it).
Native Deodorant – I think Target just started carrying this. A friend of the family is really into animal rights and has been trying a lot of cruelty-free brands; I tried Native based on her recommendation and ordered a sampler pack. I like them faaaaar better than Tom's, which is the only other natural deodorant I tried, and in general I'm wearing them instead of my 15+ year preferred brand, Mitchum.
Come summertime we'll see whether I still use my Native deodorant, but for non-sweaty weather it's fine. My favorite scents thus far are seasonal Cotton & Powder, Lavendar & Rose, and Vanilla & Coconut — I really hope they make the Cotton & Powder a permanent scent.
Phlur – I wrote before about my love for my new date-night scent, Hepcat…
Hanacure – I wrote before about my experience with the Hanacure mask — to be honest I haven't bought it again though. (Although, hmmn, I have a bachelorette party coming up in a few months…) It's now available at a ton more spots, including Barney's, Neiman Marcus and Amazon.
ColorPop – Who among us hasn't randomly ordered $50 worth of stuff? To be honest I ordered a bunch of stuff many moons ago — two years — and none of it wound up in regular rotation.
The Ordinary – I hesitate to include this brand in the list because a) I mostly heard about it from readers here more than social media, b) it's now sold at Sephora, and c) there seems to be drama going on behind the scenes – but I use their Caffeine Solution on my eyes, particularly when they're a bit puffy…
Others that keep popping up in my social media that I haven't tried yet:
Mented – nude lipsticks for women of color (probably not for me, but they do look really well done!)
Prose – custom hair care
Madison Reed – DIY hair color
How about you guys — what beauty products have you ordered from online-only stores based on stuff you saw or heard about on social media? What online-only beauty products do you love — and what bad experiences have you had?
We are a participant in the Amazon Services LLC Associates Program, an affiliate advertising program designed to provide a means for us to earn fees by linking to Amazon.com and affiliated sites.