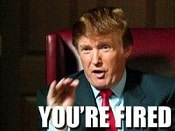 What is a good way to tell prospective employers you were fired from you last job? Should you ever use a boss who fired you as a reference? Reader S wonders…
I was recently fired from a very small law firm without any warning and without any real reason given. The owner of the firm has a history of firing an employee every six months to a year without explanation. I was told that my work product was good and he would be happy to give me a positive recommendation. I'm at a loss as to what to say when the topic of my last position comes up during interviews. I'm certain that prospective employers will ask why I left and I will have to admit that it was involuntary. Is there any way I can explain the situation without sounding like I'm complaining about my prior boss? Also, without understanding the reason for my termination, is it wise to take him up on the offer for a recommendation?
Wow, I'm so sorry, S — that really stinks. We've talked about what to tell interviewers when you've been laid off, but we haven't talked about being fired.  In general I think it's important for an unemployed person to have a simple, practiced explanation — three sentences, max — for future interviews. So I think my advice here would be to go back to your former boss and ask the following questions:
a) "Without an explanation for my dismissal it's a bit hard for me to prepare for what to say to prospective employers, as well as for me to process how to do better in the future. Were there specific reasons that led to my dismissal, or things that I could have changed?"
Note that your boss may still hem and haw and be unable to say anything. In which case I would press onward with more questions —
"Is this an economy-based dismissal, or driven by a business decision?" I am not an employment lawyer, and any advice readers may give in the comments is not legal advice — but perhaps one of our readers can give some guidance on the difference in benefits between being laid off versus being fired (this article, for example, suggests you can file for unemployment and get COBRA health insurance benefits if you are laid off, but not if you are fired).  Still, I think most prospective employers are still sensitive to the economy, and will understand if you were let go because the firm was having money problems.
"Was it a 'fit' issue in terms of firm culture?"  For a very small firm I could see this being the answer — and I think most prospective employers would understand as well.
b) "Thank you so much for your offer to give good recommendations for me and my work.  May I ask — if you were asked anything about my performance, would any of the answers be "she was mediocre," or outright negative?"  If your boss says no, all the recommendations will be good, then I'd say use him or her as a reference.  If anything is on the mediocre/negative list, though, delve further (or steer clear entirely) — you don't want to be damned by faint praise.
In general, try to focus on the positive in your interview — what you learned at your last job, what you bring to this job.  Best of luck to you!
Readers, let's hear it — what do you think Reader S should do in this circumstance? In general, what do you think employees who've been fired should say?  Have you ever interviewed someone (or been fired and hired yourself) who handled it well?