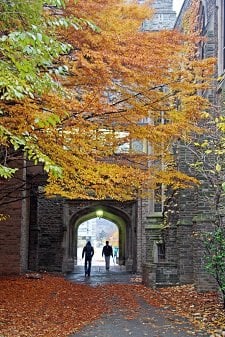 What should you wear to an alumni networking event right before homecoming?  How should you figure out what to wear?  Reader M wonders…
I am attending a networking event in a few weeks and am a little bit confused on what to wear. It is part of my university's homecoming, and is right before the homecoming game (soccer for my school). I don't plan on attending the game. However, I worry that a suit or something I would typically wear to a networking event will be too formal. This event is on a Saturday prior to a men's soccer game. What attire is appropriate for such a mixer? I worry that a shirt representing my school will be too casual, but am not really sure what will avoid being too dressy. What are your thoughts?
Tough question, Reader M. I would first encourage you to go with the easy route: call the recruiting/alumni/other people who are setting up the event and ask what suggested attire is. See if you can find pictures of what people have worn previously, or see if you can ask a friend who has attended in previous years (use it as a general check-in for networking purposes anyway!).
Failing that, here's the thing: the description for the event really matters.  If it's described, as say, "mix and mingle with other young professionals," I see that as the school facilitating both networking and flirting, and I would say that any attire is fair game so long as you don't show up looking like a Kardashian or other Insta-star.  (In other words, leave your latex dress or see-through skirt at home.)  After all: you could be going out to a date after the event, you could be coming from a brunch with girlfriends, etc, etc.  BUT: if the event is described as, say, a "professional networking event," then I'd say that does raise your game, and would suggest wearing something with pockets for business cards, and pulling at least 50% of your attire from your work wardrobe.
I will note that at these events — particularly at a homecoming thing on campus — it may be totally appropriate to wear school colors to show your spirit.  I recently went to an event at my undergrad institution (Northwestern) where we were encouraged to wear purple, and I did because I happen to have a purple blazer that I love and hardly ever wear otherwise.  Imagine my surprise when I showed up and the entire room was women in full-on purple.  (Thank goodness I didn't take it more loosely!) For my $.02 I wouldn't wear a shirt that bore the name of the school or had school insignia on it (such as a polo shirt), but that's me.
If you're really at a loss for what to wear, I would suggest wearing whatever feels more comfortable to you: a sheath dress, hopefully with pockets, with casual-ish shoes (such as booties with tights, tall boots, etc) — or your best jeans, dressy-ish shoes (they don't have to be office appropriate, but probably a step up from sneakers), a business-appropriate top that may be in your school's colors (this depends on your school spirit), and — possibly, depending on outside temperatures — a blazer or sweater instead of outerwear that you keep on or take off depending on the inside temperature.
Readers, what are your thoughts on what to wear for a Saturday evening event with your school? In general, how can you tell if the event is intended to be used as a mixer vs. a networking event? What are your thoughts on alumni school spirit attire in general? 
Pictured: Autumn Passageway McMaster University, originally uploaded to Flickr by Bobcatnorth.
—————
N.B. These substantive posts are intended to be a source of community comment on a particular topic, which readers can browse through without having to sift out a lot of unrelated comments. And so, although of course we highly value all comments by our readers, we're going to ask you to please keep your comments on topic; threadjacks will be deleted at our sole discretion and convenience. Thank you for your understanding!