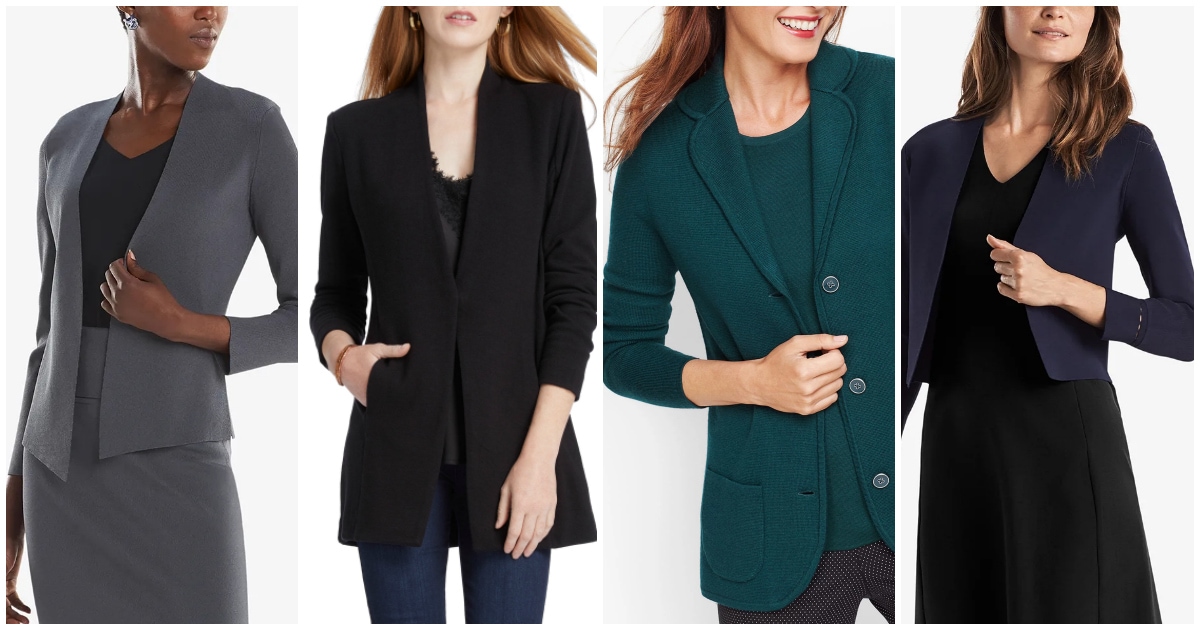 Sure, we all know what wardrobe essentials for work professional women are supposed to have in their closets, but if you're buying one for the first time or replacing one you've worn into the ground, it can be a pain to find exactly the right incarnation in stores. In "The Hunt," we search the stores for a basic item that every woman should have.
It's been too long since we've gone on a Hunt for everyone's favorite topper — the jardigan / sweater jacket / knit blazer. Part of the problem with this lovely new thing is the name — none of the stores really seems to know what to call it, or where to stick it in their online offerings. Should they be organized with the blazers or the sweaters? Work or casual? Should they be in with the cardigans? (The answer, dear retailers, is PUT THEM IN ALL OF THEM, but apparently that is not the common practice.) For the sake of argument, let's call it a sweater jacket. For definitional purposes, this piece should…
be able to be swapped for either a blazer or a cardigan in your wardrobe
does not have interior lining or stitching that might inhibit the comfort of wearing it
the fabric should be substantial enough that it has a bit of a structure on its own, but not be so thick (tweed, boiled wool) that it's a boxy mess, or be so insubstantial that it's gauzy
the fabric should feel more like a sweater (even if tightly knit) and less like a ponte, scuba, or twill
may have more blazer-like details (patch pockets, shawl collars, a relatively substantial knit)
is not a coatigan, duster, or kimono
Pictured at top: gray / black / green / blue
We went on a hunt last year for the best jardigans for work, but you'd be surprised how many more options there are out there this year! Readers, how would you define this wardrobe staple? Have you bought any great jardigans, knit blazers, or sweater jackets recently? What do you think is the best sweater jacket for the office?

Pictured above, great sweater jackets for the office:  gray / gray / green / navy with pockets / cropped navy (not pictured but also)
This post contains affiliate links and Corporette® may earn commissions for purchases made through links in this post. For more details see here. Thank you so much for your support!
Curious for previous versions of this roundup? Here they were in 2018, 2010, and (awwww) 2008…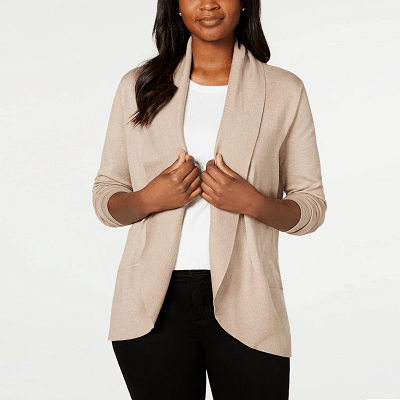 Readers have been singing the praises of this open-front cardigan from Macy's as a more affordable jardigan substitute, and at $37 today I couldn't resist including it. (I ordered it also, actually — to me this felt more like an open front cardigan than a more structured sweater jacket, though, but it's still a really nice, versatile piece for your work wardrobe). It comes in a ton of colors, in sizes XS-XXL and plus sizes, and it's $49-$54 full price. (Ooh, FYI — if you're a fan of the Barefoot Dreams circle cardigan that everyone loves, it looks like Macy's created their own version for only $49.)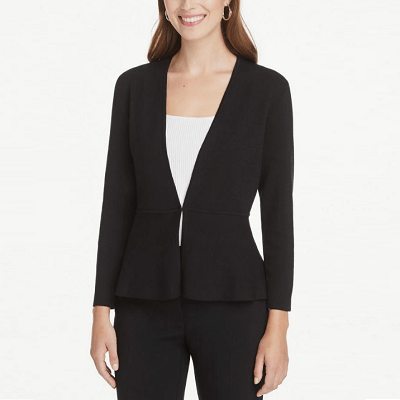 Peplums are still going strong, and I like this lovely collarless sweater jacket from Ann Taylor Factory. Not only is it machine washable, but it also comes in three bold colors (black, burgundy, dark green) in sizes XS-XXL — and it's currently marked to $59.99. This zip cardigan doesn't quite meet our requirements, but I could see it having the same jacket vibe we're going for. (For what it's worth, ATF is KILLING it lately, especially with casual, elevated tee-type things like these scoop neck options, this short-sleeved sweater with pleat details at the neck, and this short-sleeved sweater with cutouts at the neck.)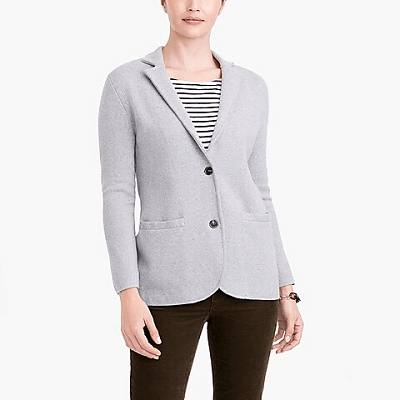 I know readers have sung the praises of J.Crew Factory's open sweater jacket for a few years now, but I really like the look of this more structured sweater blazer (pictured). They have it in SIX colors right now (including a lovely burgundy and evergreen), sizes XXS-3X, for $65-$68. Plus, it has 450 reviews and a 4.5 star rating. NICE. (They also have this collarless sweater jacket which I really like the look with a matching turtleneck beneath it.)
$119 – This stretch wool-blend sweater blazer from Nordstrom brand 1901 looks great. I'm picturing the solid burgundy because that would be my pick, but note that the black and navy versions of the jacket have some stripe detailing at the wrists that isn't my favorite, but ah well. Reviewers are loving the jacket for the flared shape, noting that it "gives you shape without being clingy" and, for one who received it through Trunk Club, noted that it "blew me away and surpasse[d] all of my expectations." The blazer only has lucky sizes left in petites, but in regular sizes XS-XXL all four colors are still in stock, all for $119.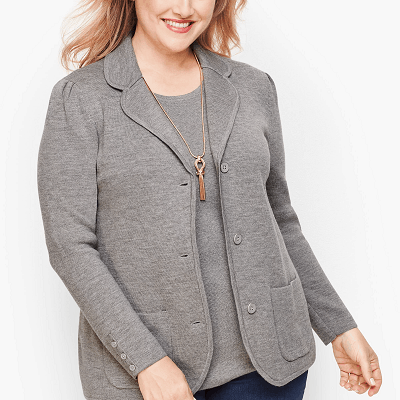 A lot of the sweater jackets we've mentioned today have a wide size range, but the only plus-size petite option for a sweater blazer (at least, that I know of) is Talbots, where this pretty, three-button sweater jacket comes in a TON of colors in regular, petite, plus-size petites, and plus sizes. As a bonus, with the anniversary sale going on, it comes down to $119-$135 today.
$129 – Over at Ann Taylor they seem to call them sweater jackets. This striped trim one has a very posh look to it, but looks really comfortable at the same time — and of course I like that tiny pop of blue. The pictured sweater is $129 full price, available in sizes XXS-XXL. This tweedy knit jacket also looks nice.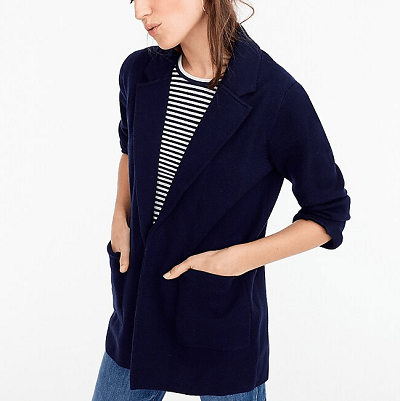 $148 – J.Crew has a pretty wide selection of sweater jackets, although I would argue that the new, longer style looks more like a coat (or everyone's dreaded look, the robe)… but that's me. The pictured jacket is a best-seller and comes in a zillion colors (including leopard!) and sizes XXXS through 3X for $138-$148 at J.Crew and Nordstrom. They also have this nice schoolboy sweater blazer in navy and gray.
This single-snap cardigan jacket from Nic + Zoe is on the newer side but already getting rave reviews, with people calling it "stunning" and advising you to "buy this jacket up before they are gone." I like that it looks more relaxed when the jacket is unbuttoned, but sharper and more tailored when it's snapped closed. It's available in regular, petite and plus sizes in a variety of neutrals (and a purple animal print!) for $158-$178 at Nordstrom, Bloomingdale's, Lord & Taylor and Nic + Zoe. (This knit riding jacket has been around for years and is worth mentioning in this discussion also, as is this pretty space-dyed option.)
Readers, what are your favorite jardigans, knit blazers, and more? (How would you define the wardrobe staple?) What do you think is the best sweater jacket for the office?
Like this feature? Check out other recent installments!
This post contains affiliate links and Corporette® may earn commissions for purchases made through links in this post. For more details see here. Thank you so much for your support!