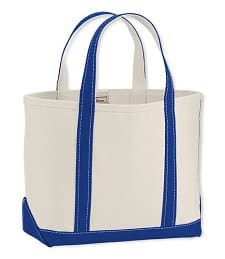 2016 Update:
Links have been updated as of 2016. See our most recent discussion on
professional tote bags
here! Last week,
we suggested
Hayden-Harnett's Ibiza "convertible flight tote" to readers — intending to recommend it as a tote bag for when you need to take home approximately fifteen pounds of paperwork — so we were a bit surprised when commenters railed against it as looking cheap as a purse (to us:  duh, of course, your purse is separate from that!) and bad as a carry-on (again, to us:  duh, of course, because the best soft carry-on is
LeSportsac
— how can that even be debated?). After we got over our internal monologue, we've been thinking about all the different tote bags we've seen through the years. To be clear:  These are not the kind of tote bags you carry with you to interviews — nor are they the kind of bags you use to carry a magazine and some papers. These are the bags that you keep somewhere in your office and pull out on Friday afternoon when you suddenly realize you have to read or review thousands of pages over the weekend, and don't feel like trying to box it up (or come into the weekend). There are a few different varieties of them, and we've always thought they convey bits of your personality to people.
Readers, what's your favorite for this kind of tote bag? Do you think we're accurate in our "personality" types?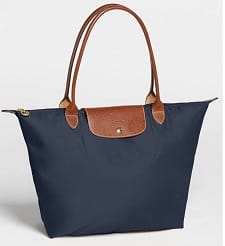 The "fancy" but practical bag. Think Longchamp, the Ibiza bag, or any bag consisting of nylon and leather in a combination. The nylon keeps the bag lightweight (aside from those fifteen pounds of papers, of course) yet very, very durable, and the leather adds a bit of glam as well as sturdiness. We have packed our Longchamp to the brim and it always retains its shape. (Alas, the largest sizes of the Longchamp bags are not available online — but for reference, pictured at left is Longchamp 'Le Pliage' Two Tone Shoulder Tote, available at Nordstrom's for $125.)  This is our preferred look — it shows you care how it looks while you're breaking your back doing work.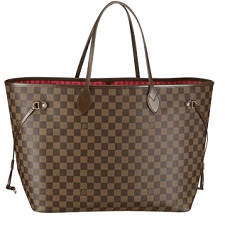 The "luxury" bag — such as Vuitton or Goyard. For our money, the luxury bag is frequently a bit impractical — they never seem big enough, we'd worry about ripping the leather, and — considering the purpose — it seems a bit like a waste of money. But, if you're trying to convey that you're a woman who cares about luxury at any cost, this is your bag. For practical purposes (weight and durability), we would advise you to go with a treated canvas bag instead of a leather one, such as the Louis Vuitton's "NeverFull GM," available at LouisVuitton.com for $750.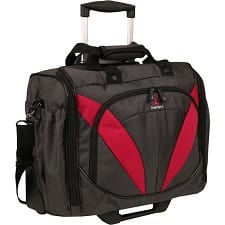 The wheeled bag. This one tells people that you're a) smart and concerned about your health, b) serious about getting paperwork to and from the office, and c) possibly aren't driving/being driven to and from work. All said, these aren't bad things to convey in today's economy. The downsides:  it's not very fashionable, and if you end up with less papers (leaving some at home, recycling them, whatever) you're still encumbered by the rolling bag. Pictured: Travelpro Tote TPro Xtreme Lite 15 Rolling Tote Granite, available at Amazon for as low as $84.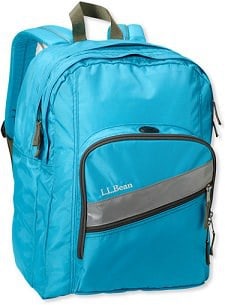 The backpack. This is our least favorite option, if only because it tells people you haven't really upgraded your bag (and possibly your style) since you were in school. Pictured:  Deluxe Book Pack, available at L.L. Bean for $39.95.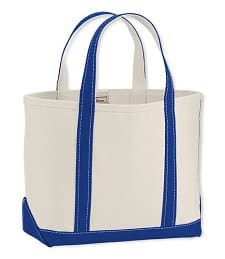 The boat bag. The funny thing here is that, by and large, the female partners we know use these to shuttle their papers to and from work. It conveys that you're definitely driving/being driven (that open top is just a disaster waiting to happen on public transportation), and it can be a subtle way of telling people things about you:  I gave enough money to Charity X to get a tote bag! I went to Conference Y and received this tote bag! All in all, not a bad option to keep at the office. Pictured:  Boat and Tote Bag, Open-Top, available at L.L. Bean for $30.95.
Shop more totes, below…
We are a participant in the Amazon Services LLC Associates Program, an affiliate advertising program designed to provide a means for us to earn fees by linking to Amazon.com and affiliated sites.