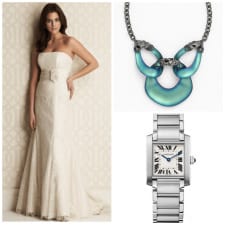 So here's a fun little question for today: What is the prettiest thing you own — and do you use it? Do you even SEE it on a regular basis? If no on the using/seeing, why not? (Variations on this could be your most valued item, e.g., your grandmother's suit she made for herself when she started work; or the most expensive thing you own, e.g. your wedding dress.) Does the item have value for you for sentimental reasons? Did you know when you got the item that it would be have such a special place in your mind — or is it one of those things that you came to appreciate over time?
For my $.02:
The prettiest thing I own is probably an Alexis Bittar necklace — I still love the stinker but it often feels like it's a little bit too much of a look, so I rarely wear it anymore. I'd also say my wedding dress is one of the prettiest things I own — the chantilly lace was perfect — but, while I see the wedding pictures often, I haven't seen the dress itself in years. (I think my mother has it in her attic? Hmmn.)
The most valuable, irreplaceable item I own is my wedding guestbook, which I see on the shelf every day and flip through once every few years. It was a picture project that collected pictures of my husband and me over our lives up to that point, and it's signed with lovely well wishes from all of our closest friends and family. It's really hard for me to pick a single kid-related item to be sentimental about, in part because I'm sentimental about all of it, and in part because the things they use to death — like their blankets — are more theirs than mine.
The most expensive item I own, aside from my wedding rings, is probably my 30th birthday present to myself, a Cartier watch, which I rarely wear anymore because I like my Apple Watch. I'm still happy to see it in my jewelry drawer, I guess, and I'm still happy I bought it, but it's just one of those things I rarely wear anymore.
How about you guys?