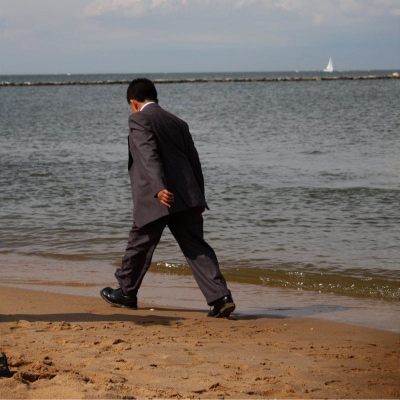 When do you break the "always dress conservatively at first" rule? Reader S wonders how to dress in a fun way for an interview:
I just returned from an interview that I had yesterday at a large law firm. I knew I would be interviewing with a single partner who had all the power and authority to hire me. I had a heads up from an associate in her department that she always looked as if she walked out of a Neiman's catalog, and I seriously considered spicing up my conservative gray suit (dress/jacket combo) with either a snazzy necklace or not-quite-so-boring shoes. But I always believe that it's best to err on the side of conservatism in an interview, and so I nixed this inclination and slipped on my 1.75 inch black, round toe pumps and a strand of pearls.

I regretted the decision the entire interview — I felt frumpy and boring. Feeling like I am perfectly dressed for an occasion always gives me confidence, and the opposite is also true if I feel that I missed the boat. I'd really enjoy a post about being interview appropriate, and still being yourself. It seems to me, that as younger, more fashionable women are taking on large roles at firms, the age-old advice of playing it ultra-safe in interviews may need to be loosened up a bit. Any tips on being polished, professional, but also stylish in an interview? I figure I'm not the only one struggling with this…
I'm sorry you felt like that! I have a few thoughts on why you may not have been overly conservative, and what you can do the next time. (Pictured: Overdressed, originally uploaded to Flickr by Sarah Ross photography.)
Research, research, research. Here you knew that the scuttlebutt on the partner was that she always looked fashionable on a day-to-day basis — but what was she wearing in the photograph on the firm website? What does she wear to introduce herself to clients, or to appear in court? My guess is that she skews more conservative there, and those are closer comparisons to your situation — and if she were going to judge you, she would do so by comparing how she would have dressed in an interview. That said…
Always stay true to yourself — don't ever feel like you're wearing a costume. I have conservative outfits, I have casual outfits, and I have my "I'm meeting up with fashion blogger friends so I'd better look fashionable" outfits — but all of the pieces are things that I love. That's not really the vibe that I'm getting from your email when you describe your pearls and your round-toe, low pumps. There are great-looking conservative items out there — classic suits, comfortable but gorgeous pumps, and interesting, detailed jewelry, all of which read conservative. Would I wear my neon pink double bib Kate Spade necklace to an interview? Probably not. But I would consider a statement necklace with a fun color, like this one, or even go for a more inexpensive, fashion-y pearl necklace (like this one) if I didn't feel comfortable in my 16″ 7MM pearls. The trick is finding the "conservative for you" outfit that you feel great in, but still "reads" as conservative and situation-appropriate.
Whatever happens, though, do your best to put your clothes out of your mind. I know it's hard — I've been in situations where I felt under- or over-dressed, and every time I get distracted, defensive, and I start kicking myself for second-guessing my clothes. Smile, own the decision you made, and move on. (I've heard it sometimes helps to wash your hands after a big decision, to mentally be done with it — I'd try that here, too.)
Readers, what do you do when you show up somewhere and feel over- or under-dressed? How do you avoid that?