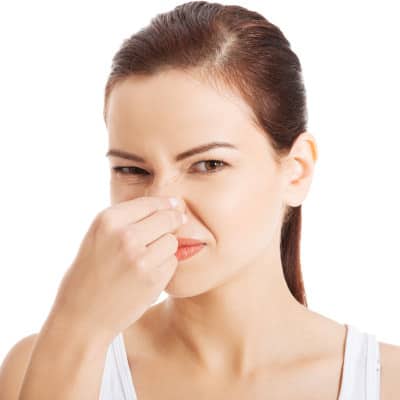 Reader E has a fabulous question that we have always wondered about: what to do when dry cleaning did not remove the smell…
I just got some dresses back from the cleaner – a good one that I've been using for years – and noted that the underarm areas smelled less than fresh. What can I do about this, short of sending the dresses back to the cleaner (and possibly having them no fresher)?

I've been trying to switch to washable shirts – detergent + Oxy Clean do a better job of getting rid of the stink. But meanwhile, what of the dresses?
Honestly, we've had this problem also where dry cleaning did not remove the smell, and don't know what to say. We've taken them back to the drycleaner, sprayed Febreeze, and more. We almost worry that once the clothes have been drycleaned the stink is, well, stuck on them.
We wish we could say the problem were limited to some particular fabric, but we've noticed it with natural fibers as well as polyester. Perhaps there's a secret trick we're missing that a reader can clue us in on?
The best advice we can offer is to let your clothes airdry completely between wearings. Hang them up outside the closet before you put them away, and do the same before you take them to the drycleaner.
Psst: you may want to try some of these products for dry cleaning at home…

This post contains affiliate links and Corporette® may earn commissions for purchases made through links in this post. For more details see here. Thank you so much for your support!
But readers, we're really curious — any other tips? What have you done when dry cleaning did not remove the smell?
Pictured (2019 Update): Deposit Photos / piotr_marcinski. (Originally pictured: Stinky Bklyn, originally uploaded to Flickr by abbyladybug.)