Sure, we all know what basics professional women are supposed to have in their closets, but if you're buying one for the first time or replacing one you've worn into the ground, it can be a pain to find exactly the right incarnation in stores. In "The Hunt," we search the stores for a basic item that every woman should have.
We haven't talked about washable pants in far too long, so I thought I'd do a round-up today. (If having machine-washable garments is important to you, check out our Washable Wednesday feature over on CorporetteMoms, or our roundup of the best brands of washable workwear.) As we've discussed before, these are my best tips for how to wash your washable pants:
Look for stretch if you're shopping online. If you want to narrow your search to pants that are machine washable, look for ones with stretch in them — they almost always are washable. (But most online descriptions will tell you what the recommended care is.)
Get them tailored only after you've washed them first. After the first wash there may be a little bit of shrinkage — wait to get them hemmed until then. (But, note that there are a ton of brands that offer shorter inseams for "regular" pants, so you may not need them hemmed.)
Wash them in cold water at home — and don't put them in the dryer. At least, not for very long. I usually like to put my pants in the dryer for about 15 minutes — it gets the wrinkles out, and just a bit of time with the dryer sheet makes them softer. I always wash my pants on cold, and I usually do use Woolite and the delicate cycle for my pants.
Hang them upside down to dry. The weight of the waistband will pull the pants taut, effectively smoothing them out. (I almost never iron 'em!) When you put them on the hanger, do your best to keep the crease the pants came with — if there was no crease, just put the inseams together neatly.
"Dry clean" on the label usually means you can wash them (but proceed at your own risk). The big thing to know here is that "dry clean only" means, well, DRY CLEAN ONLY. If it just says "dry clean," though, you usually can either dry clean them or wash them. Your mileage may vary here, but: unless I really loved the pair of pants, I would give "dry clean" pants a whirl in the washer, as well — particularly if the pants are made up entirely of natural fibers (one of the benefits to unlined pants). You may want to do a spot test first.
Readers, which are your favorite styles and brands for washable pants for work? What are your best tips for caring for them?
This post contains affiliate links and Corporette® may earn commissions for purchases made through links in this post. For more details see here. Thank you so much for your support!
Some of our favorite brands of washable workwear as of 2021: green / black / black / navy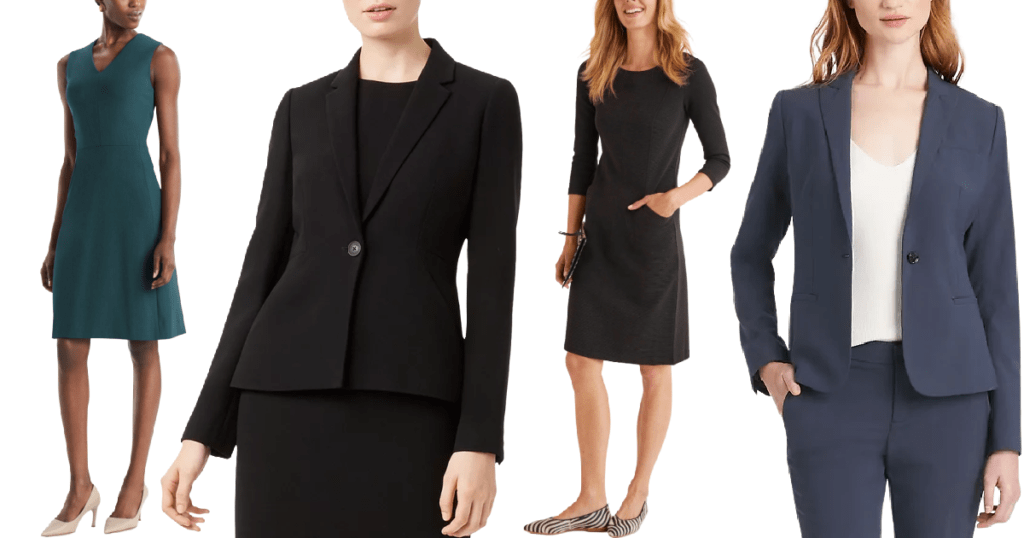 * My understanding is that a "petite" pair of pants has every measurement adjusted for a shorter woman, whereas a regular pair of pants with a "shorter length" has just the inseam adjusted — at 5'4″ I usually prefer the "shorter" length to a petite fit, at least if I plan to wear them with flats. Ladies, what do you think?
Let's start the roundup with Loft, which is having a 40% off sale today, no code needed. I have a pair of pants in this "double dobby" fabric and have no complaints — they wash up very easily; hold the stretch, etc. The pants come in black, navy and beige, and they're normally $69.50. With the code they come to $42. (Note that the fabric also comes in their Julie cut, as well as in maternity sizes.) 2017 Update: this exact pant is now sold out, but Loft is a great place to start your hunt for machine washable pants — almost their entire collection of pants is.
Next up: the 7th Avenue pants from New York & Company. They come in a zillion colors and styles (lots of ankle pants and wide flares if you want; I've pictured a bootcut). They come in sizes 0-18, in lengths "average," petite and tall, and are super highly reviewed. They're normally $59.95, but these are marked 20% off to $47.96; if you buy 3-4 pairs you can get 30% off, and 50% off if you buy 5 or more pairs. Note that if you're really fussy about your waistline (or, perhaps, in the early stages of a pregnancy), they even have pull-on pants. 7th Avenue Superstretch Bootcut Pant
Halogen pants are often washable — I can't find the link but I remember Auntie M raving about them during one of her guest guest posts. These suiting pants come in regular and petite sizes 0-16, both the full length and the ankle length pants are machine washable. Halogen® 'Taylor' Suiting Pants
These Vince Camuto pants have 81 mostly positive reviews at Nordstrom (and are nearly sold out in the gray). Unlike a lot of pants that suggest you line dry them (or only say "machine wash,") these actually encourage tumble drying. They come in regular and petite sizes, for $79. 2017 Update: these exact pants are still available, but the brand also offers a ton of other styles of machine washable pants; they come in regular, petite, and plus sizes. (Also check out their highly reviewed ponte pants.) Vince Camuto Straight Leg Pants
Talbots has a ton of washable pants, and almost all of them come in petite sizes, long lengths, women's sizes, and woman's petite sizes (super rare!). The pictured bootcut pants have 4.7 stars out of 5, and come in five colors. They're available exclusively online for $99. 2017 update: these exact pants are sold out but Talbots still has a TON of machine washable pants.
Which are YOUR favorite pairs of washable pants for work, ladies?
Like this feature? Check out other recent installments!