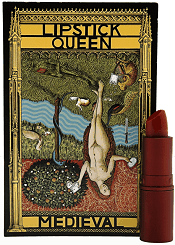 I often tell readers to "wait until you see a female superior wear it when an item might be questionable" — but when can you ignore that advice?  Is red lipstick inappropriate?  Reader P has a great question:
I know that your advice is usually "know your workplace," but is it ever okay to do something that a female superior isn't doing? For example, I regularly wear bold red lipstick (with very minimal makeup otherwise) in my personal life. I know that I pull off the lipstick – I often get compliments on it, and I'm usually assumed to be older than I am by the way that I carry myself, lipstick or no. However, I'm the youngest in my workplace by a large margin, and most of my coworkers are either men or women significantly older than myself who tend to dress on the frumpier side.

My question is this: should one always strive to fit into the office culture? And do the circumstances change if I'm in a lower-level position and much younger than everyone else?
I think this is a great question because for me, it gets to the heart of what everyone's wondering: what might be questionable at your office. There are some items of clothing — peep toes, bare arms, bare legs — that are so often on the "what not to wear to the office" list that I think for those items you should really wait to see what your female superiors do, because they help set the office culture. I would not put red lipstick on that list, though — and in fact I'd tell you to rock it out — so let's explore some more. 
Looking back at things that I've often said "don't wear to the office," they break down into two categories:
clothes that breach business etiquette
clothes that may not look very professional because they're intended for wear elsewhere
I would put things like "peep toes, bare arms, bare legs" into the "etiquette breach" category. Even though you see them all over television and movies (and in most offices), at some point in the past 50-100 years someone said, "Do I want to see your (possibly very gross) toes at the office? NO." The same theory is behind bare legs and bare arms — at some point, it's too much exposed skin, and to many older business people that "point" of too much exposure begins with bare arms and legs. So you really have to know your office to see if you're breaching the etiquette rules that may apply to your office culture.
I would put other questionable items, like capris, denim, items cut like denim (with 5 pockets), yoga pants, leggings, tall boots, sequins, and more, into the "these items are really intended for other purposes than working." Most of these clothing items have a sporty genesis — they were originally introduced for vacationing, or golfing, or yoga, or dancing, or horsebackriding, or more. They're shown a lot in popular culture as "office appropriate," but there are still a lot of older businesspeople (e.g. your bosses and clients) who will take one look at items like that and think, "she can't be that serious about the job if she's wearing her yoga clothes around the office."
Having written all that, I guess my theory of office culture basically comes down to history and tradition. And for those same reasons, I think red lipstick is FINE. For example, business women have always worn red lipstick, and in the 80s it used to be part of the "power woman" outfit along with shoulder pads and those limp little ties that women wore. This isn't to say that makeup can't ever be inappropriate — for example I think sparkly or neon makeup, or false eyelashes have very little place at the office — but I think that red lipstick is so far in the "it's a classic" camp that anyone would be OK.  You may want to test the waters by wearing a stain for the office before you go for matte red lips — I know many who call the Medieval Red by Lipstick Queen (pictured above) one of the most flattering shades for people looking for a great red stain — but that would be just if you're overly cautious.  Watch out for some of the pitfalls to wearing red lipstick, though, such as fading, getting on your teeth, and more.
Readers, what are your thoughts? Do you have a different understanding of why some items are questionable for the office?  Would there be a reason to not wear red lipstick to the office?  (And: which are your favorite reds?)
(L-1)