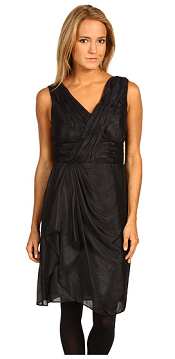 Something on your mind? Chat about it here.
6pm has a lot of party dresses on sale today — lots of ones marked 75% off, and lots of recognizable brands like Tahari, Donna Ricco, Suzi Chin, and more. I like this sparkle chiffon party dress from Tahari — looks like a great basic, and I like 70% off. A few notes about how it's styled here: I think the tights are too dark for this dress — if I were wearing this to a party I'd go for sheers, fishnets, or maybe even a lacy tight. Second: I really hope it's a bra issue and not a dress issue (maybe the model was wearing a strapless bra because she was modeling lots of party dresses that day, or no bra at all). Finally: do your hair a little bit (even a sock bun), and I would totally try to wear a brooch with this dress — either at the waist or on one of the straps, near the clavicle. It was originally $148, but is now marked to $44.99 at 6pm (lots of sizes left). Tahari by ASL Jose Surplus Sparkle Chiffon Party Dress
Psst: Check out more great deals at the Corporette Bargains page!