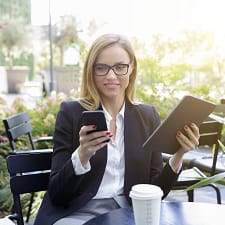 What should you bring to interviews? We've rounded up stylish interview totes in the past with a few suggestions for what to pack them with, but I don't think we've ever talked about our explicit list of the 5 things you cannot forget to bring…
Your paper resume.  If there are any new accomplishments since you started corresponding with the company, make sure you give it to everyone with whom you interview — it's a great excuse to bring up your new accomplishments.  Even if there is nothing new, bring it and offer it to everyone you interview; it makes you look prepared and like an open book. Keep your resume in…
Folder.  If you're handing out your resume it shouldn't be folded or crinkled at all.
& 4. A pen and notepad.  You never know what the interviewer is going to throw at you — he or she may want to rattle off a list of job duties, or projects/subjects you'll need up to speed immediately, etc.  They may mention a great book that you don't want to forget.  Instead of reaching for your phone — which can be misinterpreted as "time for me to check my emails/text messages/Instagram," grab a notepad instead.  You'll also get bonus points for looking prepared.
Walkable shoes.  Especially during an interview, you never, ever want it to appear that your fashion choices limit your mobility or actions.  If you can't keep up walking down the hallway with someone… or you need to change your shoes to walk two blocks to a restaurant for lunch with an interviewer… or you're in such pain that you need to kick your shoes off under a conference table… you lose points with all of that. (Check out our guide to comfortable heels if you're on the hunt for a good pair for interviews.)
Ladies, what do you always bring with you to interviews?  Would you change anything on the list?  How do you handle writing samples and other accomplishments (i.e., do you bring a brag book or the like?) 
Psst: we've talked in the past about how to keep your resume updated, and what to wear on interviews.  
Pictured: Shutterstock / s4svisuals.