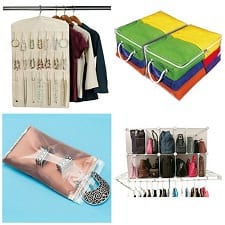 For some reason I've been in a big mood to organize our closets, so I thought we'd discuss — what are your biggest pain points when it comes to closet organization? What solutions have you found that you love? What are your best closet organization hacks?
Pictured, clockwise: hanging necklace organizer / sweater bins / modular bag organizer / anti-tarnish zip bag for silver jewelry
This post contains affiliate links and Corporette® may earn commissions for purchases made through links in this post. For more details see here. Thank you so much for your support!
Closet Organization Hacks That Are Working For Me: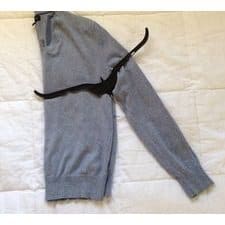 Velvet hangers — I'll be honest: I don't have these everywhere in my closet, but I did buy a few boxes of velvet hangers recently and they're the first ones I reach for. I have a new system of hanging cardigans on velvet hangers that seems to be working well enough that I'm considering hanging up my pullover sweaters as well.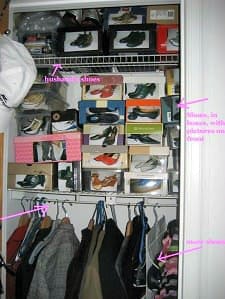 Pictures on shoe boxes — I totally forget what shoes I have if I don't put the pictures on the boxes. I vastly prefer to store them in boxes since they're dust-free and stackable, then. (We just try to keep the boxes our shoes came in, but if you're on the hunt for clear shoe boxes, Staples has a good sale today — $.99 per shoe box.)
Closet Organization Struggles (And What I May Try To Fix Them)
Psst: here are my latest favorite ways to store jewelry…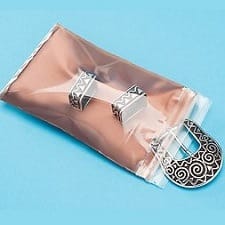 Silver jewelry: Years ago I bought a Jill Platner necklace at a sample sale and it came with a metallic gray Ziploc-type bag that said it was good for anti-tarnishing — I've proceeded to keep a LOT of my silver jewelry in that bag. The problem is that with it all bunched up into one tiny bag I tend to forget what I have. I've looked for years for a similar Ziploc bag and finally found some in various sizes on Amazon; these may be a great option to store in my other hanging jewelry organizer, particularly using my business card trick for necklaces. (There are also anti-tarnishing papers that you can use; most reviewers seemed to have more success using it with a sealed environment like a Ziploc rather than a general jewelry case though.)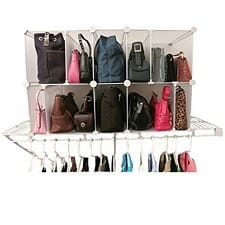 Bags: I have a pretty large bag collection, and when I store them in their dust bags, I totally forget what I have. Plus, I haven't done a great job at "stuffing" the bags in between wears, so the bags are often stored in a kind of slouchy manner if I can't lay them flat or if they don't have enough structure to stand up by themselves. I've thought of keeping a picture of my bag collection in my closet, but that seems too insane even for me. I've been considering getting a modular bag organizer (like the one pictured), but I'm not sure that would solve my "I don't remember what I have" problem. (They also make these kinds of hanging organizers for bags.) I'd love to hear what you guys do to organize and store your bags!
All right, ladies, let's hear it — what are your best closet organization hacks? What do you struggle with, and what solutions have you found for organizing your closet(s)?
We are a participant in the Amazon Services LLC Associates Program, an affiliate advertising program designed to provide a means for us to earn fees by linking to Amazon.com and affiliated sites.