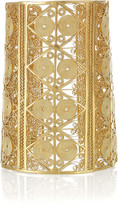 How do you know when to splurge on a piece of jewelry? A big step in the right direction involves understanding the jewelry terminology (it's also helpful if you suspect you're allergic to some jewelry!)
Today's guest post explores just that. Author "Kanye East" is an attorney at law, New York City ex-pat, sarcastic Corporette commenter, and amateur metalsmith. On the rare occasions she leaves the office, Ms. East slays dragons and makes jewelry with their treasures.
(Pictured:  Mallarino Alejandra 24-karat gold-vermeil cuff, available at Net-a-Porter for $1,600.)
I'll be honest: the first time I saw the phrase "gold vermeil," I thought something like Oooh, that sounds French. It must be fancy! And only $80? For a fancy gold necklace? Steal! I'd better buy two! My friends, I am ashamed. It turns out "vermeil" is fancy—a fancy way of saying "plated."
Hunting for great jewelry for the office? As of 2023, we're long been fans of affordable brands like Kendra Scott and Gorjana, as well as mid-tier brands like Monica Vinader, David Yurman, and Stephen Dweck. For our $.02: spend money on things like a good watch (or watch strap), gold or diamond earrings, a pearl necklace, and more.
Jewelry is my weakness. For lawyers, jewelry is the one part of a professional wardrobe that's allowed to be expressive or artistic. (My fellow liberal arts undergrads who reluctantly went to law school for the promise of health insurance and a steady paycheck will understand how important this can be to one's psyche.) Jewelry can elevate an otherwise ordinary outfit to a commanding ensemble. And my own field research confirms that if you wear the same black dress to a law firm job two days in a row but swap one eye-catching statement necklace for another, nobody will notice the fact that you wore the same clothes two days in a row.
With that said, the amount I have overpaid for poor-quality pieces over the years is staggering. To avoid my mistakes, please follow my Rule Number One: know what you're buying. You don't have to get your gemologist's certification and I'm not talking engagement-ring-caliber research, but here are some basics.
Fine jewelry incorporates precious metals (gold, platinum), precious and semi-precious gemstones, and genuine pearls (not glass or crystal pearls, or "shell pearls," which are actually beads made from mother of pearl or shell, but more about that another time.) Expect to pay more for the design and the materials, especially because the price of gold has been at all-time highs lately.
Fashion jewelry is made mostly with base metals, usually brass, copper, or nickel (a common allergen). Sometimes the base metal is covered with a layer of precious metal—this is where you really need to know what you're buying. Plating involves a very small amount of precious metal; it's easy to scrape or rub off, and if you wear a plated piece every day, it's going to tarnish quickly. Don't ever pay high prices for plated metals, and avoid them if you have metal sensitivities.
Gold vermeil is simply gold plating over sterling silver. Better than plated gold over base metal, but it's still going to tarnish.
Filled gold or gold overlay sounds like plating but it's far superior and worth paying more for. It has a higher gold content, is stronger, and resists tarnish much better than plating. For the price, it's a great alternative to solid gold for everyday wear.
Sterling silver is 92.5% silver and 7.5% base metal. Sometimes you'll see "925" stamped on silver jewelry: this is usually a jeweler's certification that the piece is made with sterling silver. If you're sensitive to metals, you should probably avoid sterling silver, but know that it's the 7.5% base metal you're probably reacting to, not the silver. On that note, those with metal sensitivities should also avoid white gold, which is typically alloyed with small amounts of nickel, manganese or palladium.
Argentium® Silver is gaining popularity among jewelry makers; it contains more germanium than traditional alloys, is highly tarnish-resistant, and requires almost no polishing.
Fine silver is pure silver with no base metal, but due to its softness, you don't often see fine silver jewelry.
Now get out there and stimulate the economy!
Psst: Here are some of our favorite products to store jewelry: