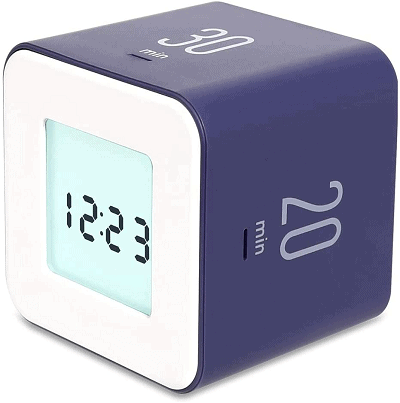 I purchased this little timer a few weeks ago in white, and I have to say it's pretty clever — you rotate it from side to side to give yourself chunks of time to focus and do tasks. Mine has 5-, 15-, 30-, and 60-minute increments — you basically just turn it so the time you want is on top of the box, and then the screen rotates to show you how much time remains. There's a little beep to let you know the timer has started, and a blinking red light. Then when the time is up, it buzzes. (It's totally silent in the interim.)
The buzzer is a bit annoying — I just turn it screen-side down to shut it off immediately, and then usually forget about it.
But I'm finding I do use this, and often — I'll try to give myself a "power hour" to Do the Things I Don't Want to Do, or to break the work into segments like the Pomodoro method specifies. (They don't have a 25-minute option, but I've never really felt like there's been magic in that particular number anyway, at least for me.) I could also see it being great if you've got a billable hour!
I feel like it's a bit superior to using Siri — just picking up my phone can lead to a world of distractions sometimes. And I tried to use the app Forest previously, but neither the phone nor PC version really worked well for me.
The timer cube is $18.90 and comes in a variety of colors. (My description of how it works all applies to the white one, since it seems the time options may be different depending on what color you get.) I recommend!
Readers, what other fun ways do you have to manage your time?
This post contains affiliate links and Corporette® may earn commissions for purchases made through links in this post. For more details see here. Thank you so much for your support!
Workwear sales of note for 1.19.21…