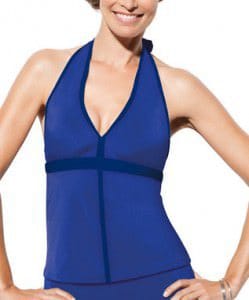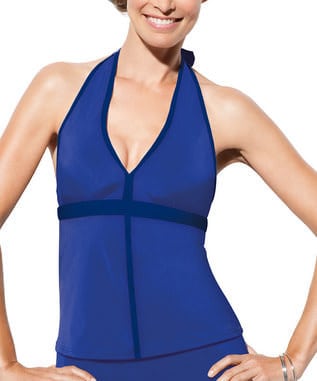 Here's a fun question: what items do you think are wise to purchase, even if you don't have a specific event or occasion to wear them to — and which items are best left for specific "I am going to wear this to X event" purchases? Even though we don't belong to a gym with a pool, and we have no vacations planned, I recently bought a non-returnable swimsuit on deep discount, so it's been on my mind.
For my own $.02: in general, I prefer to "let clothes find me." I actually hate shopping with an agenda — if I need a new pair of jeans, or a white blouse, or a basic LBD, I have to steel myself for a long and trying shopping excursion (where, at the end, I always seem to pay through the nose for something I only vaguely like). Instead, I prefer to buy things that I actually like (perhaps helped along by the fact that they're deeply discounted), and that I suspect I might have a use for — some day. Even now, while I hate having to "commit" to my post-baby body (which is a size or two larger than my pre-baby body), I've made some purchases and had to argue with myself in my head. Here's how the conversation goes:
Kat1: "Oooh, a pretty dress in a flattering shape, with colors that I love, on sale for $50!"
Kat2: "You don't need this — you'll definitely fit back into your old clothes by the time you need to get dressed up!"
Kat1: "But what if I'm not?"
Kat2: "Well it'll be a great goal then!"
Kat1: "Uh huh. Let's just buy it and if we're lucky enough to be smaller by then, then oh well! I'd rather have something nice in the closet that fits my current size."
So it's a bit bittersweet to be able to say that I've worn almost everything that I bought "just in case," already. (Apparently I'm one of the women who doesn't lose weight while breastfeeding. Yay.) But every time it's been time to dress up, I've been so happy that I had something that I knew worked in my closet — I haven't had to make a single panicked trip to the stores where I end up paying 3x as much for something I only vaguely like.
Looking back, a number of my friends have made a policy of purchasing great dresses they came across, even if they had nowhere to wear it. One friend bought her wedding dress that way, years before she even met her husband. Another friend would buy evening gowns at thrift stores, with the mandate that well, she had a dress, now she had to find an event worthy of the dress. (And you know what? She always did find a place to wear it.)
So, readers, how do you shop? Are you like me (you let clothes find you and purchase without regard to whether you have someplace to wear it), or do you have another system (such as shopping with only specific events in mind)? Do you generally purchase "outfits" when you buy separates, or do you just buy what you like and hope it will work together? Are there any pieces of clothing (or outfits) that you will not purchase unless you have a specific event in mind?