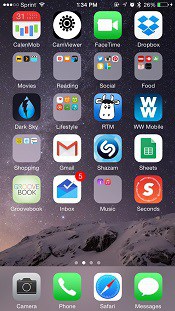 Ladies, what are your favorite apps for working women? I rounded up some of my favorite Android apps a few years ago, but now that I've switched over to iPhone (in December 2014), I've been collecting an ever growing list…
{Update: here are our favorite apps in 2019!}
My Favorite Apps for Working Women
Pocket. After our post on information overload, I did such a good job of getting my Pocket cleaned up, primarily thanks to dumping stuff that was "for later" in Evernote. (At one point I went from something like 1250 articles to read later, down to 200 articles.) Then I got pregnant and had another baby, and it's out of control again. The app has stopped counting, though, so I'm not sure how bad it is — I just opened the app on my phone and it said it was downloading a 158 new ones. Sigh. At least I'm never short on reading materials…
CalenMob. I love my Google Calendars, and have several — a personal one, one to schedule Corporette stuff, one for my sons' stuff, etc. — and it never seemed like iPhone's native calendar did a good job of syncing them. CalenMob bridges the gap for me. There is a free version and a "pro" version for $6.99 — I just bought the pro version.
Sheets. Excel seems to be my default program of choice these days, so I like being able to edit everything in Sheets.
If This Then That. I'm still playing around with this one, but Lifehacker is perpetually in love with it. What recipes are you guys using?
Key Ring.  Handy for when you have a bunch of store cards/loyalty cards and don't want to carry them all with you, so you can scan the bar codes and so forth into the app.
Pinterest. I love this for collecting visual ideas — decor things I want to try, outfits I like, etc. You can follow us at http://pinterest.com/corporette.
Evernote. I use this like Pinterest, but for articles. I'm still figuring out how to make the most of it, to be honest, but it was a great way to unload my Pocket reading list when I first started.
Dropbox. As I mentioned at CorporetteMoms in our post on organizing family photos, I love Dropbox — we first started using it back when I was on Android and my husband was on iPhone (and I'm also just generally suspicious of Apple's iCloud stuff), and the love continues.
Sleep Cycle.  I'm still searching for the best "hack your sleep" app; at the moment I like Sleep Cycle.
Seven. This app is great if you want a really focused workout — it's a seven minute HIIT workout, inspired by a NYT article. Do multiple cycles to get the most effect, of course, but even one cycle can help. I also just downloaded the app Seconds to try to find a way to put HIIT intervals on top of music (but haven't had a chance to try it out yet).
DarkSky.  Wondering what the weather will be like in the next HOUR? Dark Sky is great for that — it was designed by two people who were driving cross country, and happened to get stuck inside the rest stop without umbrellas when one of those out-of-nowhere storms hit. Would it last ten minutes or an hour? They didn't know, so they created an app for it.
Other basic must-haves: Seamless. Fresh Direct. Open Table. Shazam. I don't read a ton on Kindle (see my out-of-control Pocket list, ha) but I have that on there too.
I'll also mention Omnifocus for all you GTDers out there — my brother loves it, but I haven't tried it yet.
I will also give a "hugely helpful" shout out to my bluetooth keyboard — I use it all the time for focused writing on my iPad (my focus is sooo much better if the mouse is out of the picture and I don't have 10,000 tabs open), but I also discovered during some flights last week that it's also hugely helpful for writing on my iPhone. (I went back to Northwestern University for a conference/group meeting for a women's alumni group I'm part of, Council of 100.) The tray space on the plane was so limited I found I actually preferred writing on the Notes function on my iPhone, and managed to crank out about 10 posts between the two flights.
What are your favorite apps, ladies? Which apps add to your productivity and/or help you manage information? Which ones make your life easier?
We are a participant in the Amazon Services LLC Associates Program, an affiliate advertising program designed to provide a means for us to earn fees by linking to Amazon.com and affiliated sites.