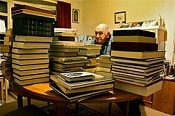 I'm curious, ladies — am I the only one who is crushed by the overwhelming amount of information hurtling my way on a daily basis?  I get about 600 emails daily.  Every time I log on to Facebook or Twitter I end up throwing at least 5 new articles onto my "read it later" list via Pocket (which now has something like 1150 unread articles).  Pinterest seems like a bottomless pit of recipes and DIY projects that I know I'll never try but decide to Pin anyway.  Not to mention the numerous magazines I get monthly, and the 1000s of RSS feeds in my Netvibes reader. (In fact, when I first started this blog I swore I would never do more than a few posts a day because I had stopped reading other blogs like Jezebel and Gawker, overwhelmed by the sheer number of posts every day.)  So… how do you deal with information overload?  I have a few suggestions, but I'm really curious what you guys do — do you rely on certain apps?  Do you have methods (like maintaining inbox zero, or declaring email bankruptcy on a regular basis)? What helps?
For my $.02:
– I still do swear by Pocket (formerly Read it Later) for cutting down on distractions at work — every time I see an article I want to read I just use the handy bookmarklet and throw it on my reading list, telling myself I'll read it later that day.
– I also still use Leechblock religiously, which at least limits my time on Facebook and other social media that can suck me in during the workday.  (It's scary how much damage I can do when allotted 2 minutes on Facebook each hour.)  The app isn't so great for slideshows or videos, but otherwise I really like it.
– Basic Gmail filters.  First, I have all of my newsletters go to a separate email account, all of which is filtered automatically to a folder called "To Delete Eventually" (or TDE).  I used to go through, select 50, do a quick read-through of the subject line, and then unselect the ones I actually wanted to leave for later.  Then I realized that there were some that I almost always wanted to read (Google alerts on "corporette" and so forth, consistently good content from Daily Worth, hyper-local news from the Brooklyn Heights Blog, age-appropriate content on my son from Babycenter) and so I set up special filters on those so they would be automatically starred.  So now I select the unstarred ones in a batch of 50 — and it does save me a bit of time.  (It can still be days before I get around to reading them, but so it goes.)
– The Mailbox app (for Gmail only right now) really is all it's cracked up to be.  I set it up for my work email (I use Google Apps for Business or whatever) and I love the way I can schedule emails for later (tonight, tomorrow, a week later, later this month) to help me prioritize what's in my inbox, and the gestures all make it super fast.  I use a Windows computer and an Android phone so right now I can only use the app on my iPad, but that's good enough for me.  Super helpful.  I haven't integrated my personal email account with it yet, but after seeing how helpful it was to have a super small inbox I've just done my version of email bankruptcy (I archived all 1500+ messages that were in my inbox) and moved a few that I remembered where important back into it.
– Kippt. I've literally just found this service (and apparently there are a lot of them out there), but so far I like the concept.  See, a lot of what I throw on my Pocket reading list are things that will be good to think about when the time comes — business strategies (SEO, Pinterest, etc), tech stuff (stuff about Facebook's new news feed, suggestions on how to integrate API codes, design ideas) — and it overwhelms the reading list.  I've previously thought about throwing it on my Pocket reading list and then archiving it immediately, but maybe categorizing things in a separate service like Kippt will be easier.
What else have you found to handle information overload, ladies?   Are any of you at the level where you've found success in outsourcing most of your reading to an assistant or something like that?  (Years ago, when I was an editorial assistant at Family Circle, one of my jobs was to flag about 30+ magazines and newspapers with items of interest for the editor in chief… I tried having a virtual assistant do it for me when I had a general VA a year or two ago but I didn't find it saved me any real time or energy, but maybe that was just a bad setup…)
Pictured: 255-365 (Year 6) Books, originally uploaded to Flickr by Georgie R.