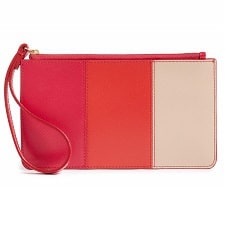 The recent debate about "who is the super rich" has been interesting to me, and it's a subject, I think, that we should discuss here. The initial "Our family of 5 can barely survive even though we make more than $400K a year" post has been taken down, but you can read some of the commentary here and here. Elie Mystal also had an excellent post at Above the Law about how $250K in NYC does not make a family of 2 "rich." All of this comes against the question of whether a higher paycheck will make you more satisfied/fulfilled by your job. Let's explore these questions: what is "rich" to you? How are you, as an "overachieving chick," motivated by money — particularly if it means balancing a stressful job? (Pictured: Halogen wallet, available at Nordstrom.) And, a caveat to start:  I know there are no right answers here.

I've gone over and over how best to approach this — too.many.thoughts! — and I guess I'll start by saying that personally, I've never really felt motivated by money in my career choice (which is probably already indicative of my upper-middle class background). My first job paid $24K, and when I got the offer letter I ran around the house screaming, "Man, what am I going to DO with all that money?" while my parents winced. It turned out that the answer was "barely survive in NYC" — it required a budget so strict that I sometimes had to bring a raw potato to work to nuke with a slice of American cheese. I knew going to law school would bring me "more money," but I had no real expectation of how much — I went because I was actually interested in legal things. As it turned out, getting a job at a Top 100 firm (and being a single girl) allowed me to bank my entire second paycheck and still spend what I wanted without really thinking about it. That was nice. I'm somewhere in the middle of those two incomes right now, but my situation has also changed — I'm married, the hubs has a bit of student loan debt, and we have a mortgage to worry about. Debt isn't fun, but I know we're lucky that our net worth is in the black.
So readers, I guess what I'm curious about is — what is "comfortable" to you, money-wise? When will you feel like you've "arrived"? Is it the ability to drive a luxury car and take an international vacation once a year? A closet full of Manolos? Or is it simpler — freedom from worrying about money? A positive net worth? Will you feel like you've hit the jackpot if you can pay for your kids' private college education? And — how much is your current job and current career motivated by those desires? How much do you measure your personal "success" if you can meet those desires? And to what extent will future choices re: kids and retirement be influenced by those thoughts?
Another nagging question that I'd love people's thoughts on — is it different for men? I've known people who've said they wanted to be billionaires, as well as people who treated the number on their bank statement like a game (how much higher could it go)? — but to be honest, most of those people were guys. It always seemed like the women I've known who aspired to be wealthy and have truly comfortable lives have preferred to marry well rather than pursue their own careers.