Sure, we all know what wardrobe essentials for work professional women are supposed to have in their closets, but if you're buying one for the first time or replacing one you've worn into the ground, it can be a pain to find exactly the right incarnation in stores. In "The Hunt," we search the stores for a basic item that every woman should have.
I don't know if the phrase "jardigan" was around before MM.LaFleur's best-selling jacket/cardigan hybrid, but I do feel like they have not only made the phrase more common but in many ways set the bar for what to expect from a jacket/cardigan hybrid in terms of comfort, quality, and style.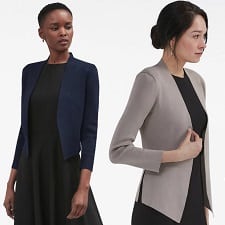 (Above, the two MM.LF jardigans: the shorter Sant Ambroeus, and the longer Woolf jardigan, both $195 and available in sizes XS–3X. Here's our last discussion on the Sant Ambroeus.)
Still, $195 is a lot to pay even for MM.LF's beloved jardigan, so I constantly see readers searching for dupes or sharing notes on what was similar. So let's go on a hunt today for jardigans, ladies, aka sweater blazers, knit blazers, and more… Which are your favorites? Where did you get your favorite jardigans for work, and how do you wear them?
This post contains affiliate links and Corporette® may earn commissions for purchases made through links in this post. For more details see here. Thank you so much for your support!
Two other affordable options not pictured: the J.Crew sweater blazer ($49 today!) and the Alfani cardigan, which looks to be almost sold out this season but will surely come back next season in a slightly different iteration (here's an older version at Overstock (regular & plus) and Amazon in plus sizes).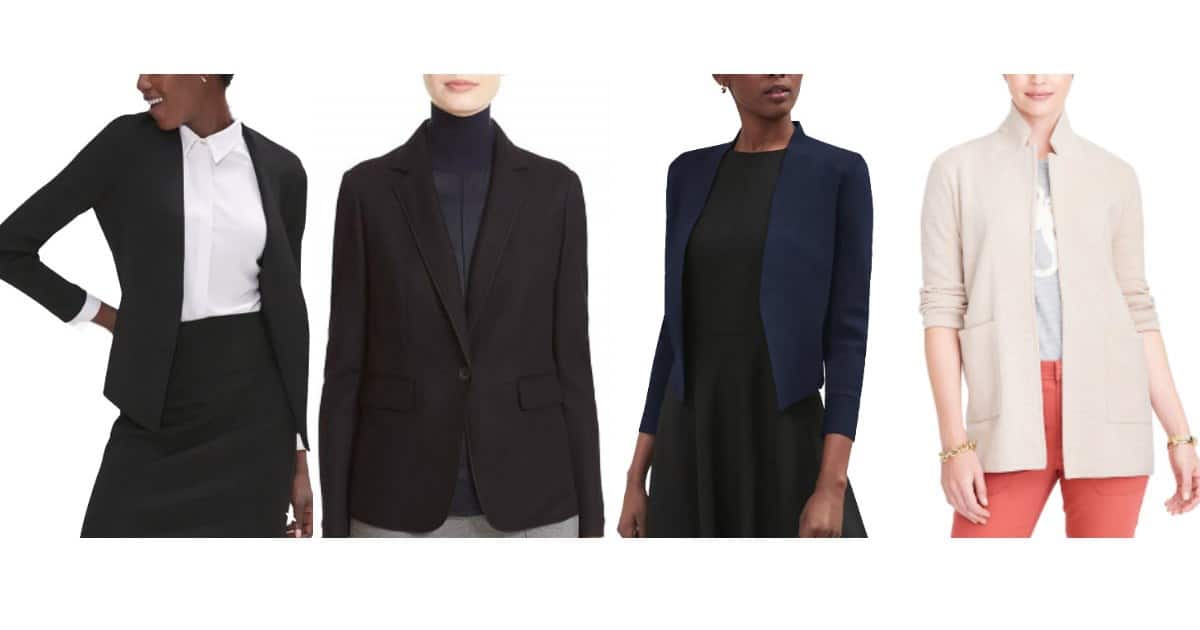 Ah yes, and how could anyone forget about this super popular knit jacket, available in regular and plus sizes in a zillion colors?
One of the most recent "jardigan dupes" that readers were singing the praises of has been this "Going Out" Blazer from J.Crew (also available at Nordstrom). Be warned that sizes keep going in and out of stock. (The two colors I ordered haven't arrived yet, boo.) The blazer is $148, available in sizes 2–16 at Nordstrom, as well as in 00 and petite and tall sizes at J.Crew. Going-Out Blazer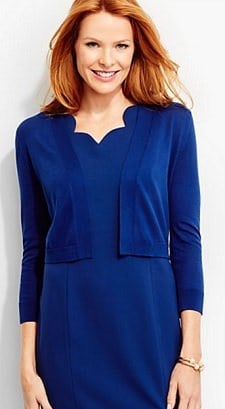 This cropped cardigan is much less structured than the jardigan fabric, but readers have still called this out for a good jardigan clone for the shorter of the two. But N.B.: Many readers are really, really, really against any shrugs for work — so know your office. It comes in a zillion different colors and sizes (including plus sizes) at Talbots for $59–$89. Classic Dress Shrug
This one is actually sold as a jardigan, by MM. LaFleur's competitor, Of Mercer, although it obviously has a more relaxed vibe. This one is reversible, as well. It's $115 at Of Mercer, available in sizes XS–2X. Reade Jardigan
This one is not apparent at all from the photo, but it's ridiculously soft — as close to a sweater as you can get while still being a blazer. This one is on the more expensive side, though: it's $495 at Nordstrom and Saks, but The Outnet has a bunch of sizes for the navy (for $247), and there's one lucky size of the cream left at OFF5TH for $197. If you like the structured look with a button and collar, note that this cashmere blazer has also been around forever and currently comes in a bunch of colors for $101–$146 at Last Call. Pictured: Club Wool Blazer
Like this feature? Check out other recent installments!