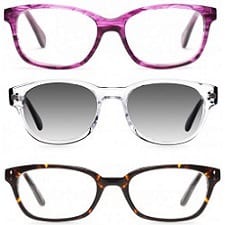 A reader wrote in the other day asking me to update our post on how to buy eyeglasses online — I'm still buying them (a pair or three every two years, approximately), so I thought we'd talk about the best online glasses stores for women because finding cute eyeglasses for women — online — can be difficult. As a reminder, these extremely affordable options can be great if you're the kind of person who likes to change eyeglasses frequently like other accessories, if you're looking for a back-up set to keep at your office, or if you've got a situation where someone keeps losing them, destroying them, or more. (I started buying online after my first son destroyed two pairs of eyeglasses…) Note also that if you have flexible spending dollars to spend before the end of the year, many of these will qualify, so now is a great time to buy.
I've bought from GlassesUSA most recently, but there are a lot of other great places to try out…
Some general tips for buying women's eyeglasses online:
If you have a pair of old eyeglasses you love, measure the frames, nosebridge, and more — and take a picture of your eyeglasses (and you in them) so you can save it in your files. I regularly compare the measurements of old eyeglasses to new ones I'm considering.
I find it easiest to winnow down the selection if I'm looking for one particular color, so I almost always sort by blue — for you that may be clear, tortoise, or something else.
When in doubt, pay for a thinner lens.
Unfortunately, most prescription sunglasses can't get a really dark tint — I still love them. I started buying them back in my contact days so I could go for a run in the morning without putting my contacts in before my shower; now that I wear eyeglasses 90% of the time, I'm thankful to have more stylish sunglasses that I can also see out of.
I tend to save any relevant pictures and measurements into one folder on my desktop– if I take pictures of home try-on glasses, if I save the "virtual try-on picture," etc — and then I can flip through all of them at once on my computer.
Note the return policy carefully – most stores have really excellent return policies, just check before you buy.
Consider recycling your old eyeglasses when you're happy with your new ones.
Some of the companies we covered in our first round-up are still around, and we won't go into them too much today:
Warby Parker (still offering at-home tryon for frames, and I was excited to see that they just came out with a new "low nose bridge" fit)
EyebuyDirect (note they have a new collaboration with Coca Rocha) (try code IFRR6CIXC6 to get $10 off your first purchase)
GlassesUSA (these are my comfortable workout/TV-watching glasses, and these are my prescription sunglasses)
in-store options at places like Target and Costco (not online, but more affordable than your local optician)
A few other options to consider if you're hunting for affordable eyeglasses for women online: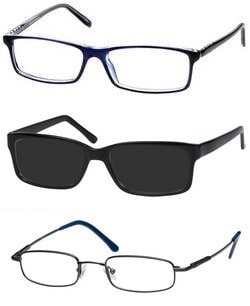 According to the site, it was "developed by eye doctors to create an inexpensive method for people to acquire high-quality, finished prescription eyeglasses." I've bought prescription sunglasses here for my husband (he's lost four pairs!) but have yet to buy anything for myself. While they don't offer home try-on, they DO let you upload a picture, choose any tint color for any pair of glasses, and they offer a huge selection of prescription eyeglasses, sunglasses, and bifocals for men, women, and kids. You can shop by frame material, including "flex frames" (if you also have a toddler who thinks it's hilarious to grab your eyeglasses), and — this seems kind of cool — you can "re-lens" your own frame, as well, if you have a frame you love but need a new prescription.  Note that most eyeglasses will end up being more than $39 if you choose add-ons like anti-scratch coating, but they're still really affordable. Pictured at right: Pasadena, Clark, and Bendable Titanium 71.
This brand has been around for a while now, but I've yet to buy anything, perhaps because the selection feels too similar to Warby Parker for my taste.  From the website: "Fashion & quality Rx eyeglasses at $99 including prescription lenses. Test out our virtual try-on tool to find the perfect frames."  There is no home try-on availability, alas, but if you happen to be in or near Montreal you can book an appointment in their store.
I've never ordered from this store, but I'm a sucker for at-home free try-on options so I'll be swinging back here to pick out a few. From the website: "Shop curated frames to fit your unique style + vision needs. They work with an optical lab that has years of experience making lenses for optometrists and optical shops, so with optometrist-approved lenses,certified optician on staff, and guaranteed prescription verification, you can trust you'll find superior optical quality in every pair."  Single vision eyeglasses are $119, with progressive glasses being $299. I particularly like that you can sort by features like nose pads, spring hinges, face shape, flexible frames, and more. Pictured at left: Lilly (pink), College, and Broad Ripple.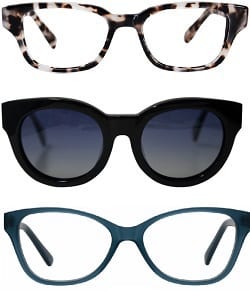 According to the site, "Fetch Eyewear creates top notch designer frames at an affordable price.  Fetch Eyewear donates all corporate profits to support animal rescue and accessible veterinary efforts, as well as pet education projects." The designer Ann Sacks is behind the project, and I like that (like Warby Parker) they offer eyeglasses for home try-on. My home eyeglasses haven't arrived yet because apparently their offices just suffered a fire, but they noted that their inventory was in a different building, so I'm hopeful the brand will keep on keeping on.  Prices for prescription eyeglasses and sunglasses are around $125-$165. Some examples at right: Annie, Margot, Bella.
Ladies, have you bought eyeglasses online recently? Which are your favorite places to buy from — have you had any great (or lousy) experiences to share? What do you think the best online glasses stores for women are?