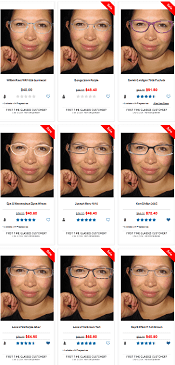 2016 Update: links have been updated below; please also check out our latest discussion of the best online glasses stores for women!
Readers, have you bought eyeglasses online recently?  A number of new stores and services have come out, and since I personally needed some new eyeglasses, I thought I'd write a post summarizing my experiences.
After some cornea troubles a few years ago, I wear eyeglasses about 85% of the time — and I recently decided that I really, really needed some new eyeglasses.  See, I used to have a LOT: three metal eyeglasses (two that were super old, one through the LensCrafters thing in 2011), two plastic framed "stylish" glasses, and two prescription sunglasses.  Of the eyeglasses, my son basically destroyed three pairs (ah, toddlers — in his defense they were old anyway), one pair was only comfortable for wear in short spurts (my "going out glasses," for when I was too lazy to put in my contacts), and the final pair — which have became my "everyday" glasses — somehow yank out a few strands of my hair every time I wear them.  Ow. (As for the sunglasses, I didn't need any new ones, I just WANTED them. So sue me.)
Now over the years I've read a lot about the huge markups on eyewear, and how one company basically makes all eyeglasses (so a "branded pair" is generally the same quality as a non-branded pair).  We had last experimented with online eyeglass-shopping with my husband a few years ago, buying a $26 pair of metal eyeglasses for him to wear around the house — but we both joked about the experience as resulting in "Grandpa glasses."  Considering that it had been a few years, I thought I'd poke around and see if I could find some chic, affordable eyeglasses online.  I was looking for maybe one new pair of plastic/stylish eyeglasses, one or two new pairs of metal eyeglasses to wear around the house, and thought I might also be open to buying a new pair of prescription sunglasses.  I often feel like eyeglasses darken my face/eye area, so I was looking for a colorful frame if possible (and I was open to "edging up" my look, as well as getting geek-chic glasses, but ultimately didn't want something too outside my comfort zone).
Before you start: 
Measure some previous eyeglasses to get an idea of height, width, length of arm, etc.
Get your prescription.  Getting a new eye exam is probably the recommended route here — just an exam is not that expensive,and a lot of times it's included in a Groupon or Living Social deal.  I used an old prescription for me (from 2011); my husband got a new prescription (through a Living Social deal we had with Macy's.  Because they were included in the deal we also wound up getting the absolute cheapest frames Macy's had to offer in the store — at $219.)
Get your pupillary distance.  It often isn't written on your prescription, but the optician also needs to measure that — my husband asked what his was during his eye exam; I called the last place I had an eye exam and they gave it to me over the phone.  There are also a lot of apps and other methods out there now — but if you can just leave it to the professionals.
Consider using Pinterest to compare frames if you're considering frames from different stores.  It's helpful to see them all in one space.
Take a photo of yourself to use for virtual try on — face forward, don't tilt your head, keep your hair off your face, etc.
Some bullet-pointed thoughts on specific stores:
Best Curated Selection for Women: (Both now defunct — see our 2016 roundup instead.) Rivet & Sway (see more below). Mezzmer was a close second, but they don't offer home try-on. A lot of other places offer selection for women, but these two were my favorites for browsing.
Online shops that send you frames for in-home try on, for free:  Warby Parker.  Rivet & Sway.  Glasses.com.  ClassicSpecs.  I LOVE THIS SERVICE.  It's so much more fun to sit around with a bottle of wine, a mirror, and a camera, and try on glasses with your friends.  My husband and I took three pictures for each frame we tried on:  a) a picture of the label so later we could tell which frame it was, b) a picture of the frames on our face, straight on, and c) a profile picture.  I will say that it's also great if you have someone in your life (partner, parent, sibling, roommate) who you think needs new glasses but refuses to go to the eyeglass shop — I just picked out a bunch of frames I thought my husband would like and had them sent to us, for free.  Every place offers free returns, and it's super easy to pack 'em up and send 'em back.
Online shops that have great first-time deals:  Coastal.com (get your first pair free, but limited selection), GlassesUSA.com (right now they have a coupon code offering 70% off your first pair).
Virtual Try-On Mass Page View:  Almost every online glass shop lets you upload a picture to "try on" glasses virtually, but at a few of them (Coastal, GlassesUSA.com) you can choose to view a page full of eyeglasses (24 frames and more) with the "try on view."  It's kind of amazing how quickly things jump out at you that wouldn't otherwise.  (See the picture at the top of this post if I'm doing a poor job describing this.)
First purchases (none of which have arrived yet):

Eyebuydirect.  No in-home tryon, but for general around-the-house metal glasses I was happy to pay $80 for two pairs. (The pair my husband got at Macy's was even plainer than these two — his are just black metal ones.)
We next got a pair of fun lenses for my husband through Warby Parker ($95 total).
We also bought a pair of sunglasses for my husband ($33 through 39dollarglasses.com) and a new pair of prescription sunglasses for me (through GlassesUsa.com — $84 after getting a "70% off your first pair" coupon code).
I may still get another pair through Coastal, Rivet & Sway, or Glasses.com, but this seems like a good stopping point since we now both have three new pairs of eyeglasses. :)

A few other general tips: 

Almost every shop I looked at had really friendly return policies.  Some were limited in time (30 days seemed usual); some make you pay for return shipping, but most of them offer a full refund if you didn't like the glasses (with the option of exchanging the glasses for something else). Of course, check out the return policy before you pull the trigger (and again after the glasses arrive).
Watch the calendar if you're doing the home try on options!  For most of the places you have less than a week to return the eyeglasses, so try to be quick about it.
Some deeper thoughts:
Warby Parker – I feel like Warby Parker is the new standard in fancy glasses on the Internet. It's a curated, hip collection, they'll send you up to SIX pairs to try on at home (for free), and when you do decide to buy, a complete pair of eyeglasses is $95 (prescription sunglasses are $150-$195). Unfortunately, I didn't really think any of the eyeglasses they had would work for me — so I ordered six pairs for my husband. We wound up loving the Theo, and ordered it.  I just placed another order for in-home tryon for the sunglasses selection.
Rivet & Sway (NOW DEFUNCT) – Rivet & Sway is just for women, and — huzzah — they'll even suggest frames by face shape. Like Warby Parker, they have a very curated collection, as well as free home try-on (three pairs at a time), and all of their glasses are one price: $199. The price includes "ultra thin Rx lenses (1.60/1.67), scratch and glare-free coating, free FedEx 2 day shipping, and a 60 day free return policy." My favorites were the Derring-Do (in purple), the Core Strength (in "confetti"), Street Smart (in Cherry Bomb), and Character Study (in purple).  Use code CORPORETTESWAYS (thru 12/31/13) to get $25 off your first order.
Glasses.com – After having fun with the home-try ons at WP and R&S I ran a Google search to see if any other companies with home try-on (and cheap eyeglasses) existed, and Glasses.com came up.  Although many of their eyeglasses are branded (meaning it's pretty easy to spend $300 and up once you choose your lenses, coatings, and so forth), they DO have a "$90 complete pair" collection.  I picked out four pairs to try on at home, and actually really loved the Arabella GLW10 in red/pink.
Classic Specs – For $89 complete pair plus home try on, I thought I'd give these a shot.  These all have a thick frame/vintage vibe, though — I wound up ordering five pairs for my husband to try on and one for me.  We didn't love any of them, but it was still a great in-home try-on experience.
Readers, have you bought eyeglasses online?  Which are your favorite shops and brands?