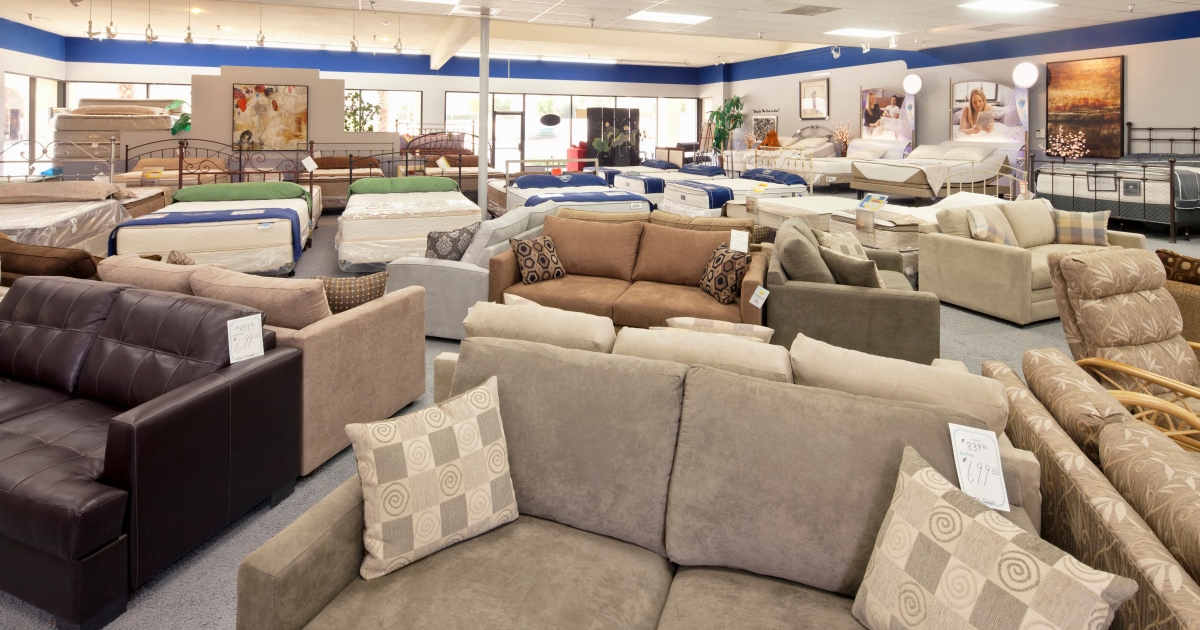 Here's a fun open thread for today — where is your furniture from, and do you recommend? What do you think are the best places to buy furniture? We haven't talked about grown-up furniture in far too long, so I'd love to hear your thoughts. Fill out as much as you can (brand, style), and let us know your thoughts…
Couch/Sofa:

Armchairs:

TV stand:

Rugs:

Kitchen Table:

Dining Room Table:

Bedroom Set:

Mattress:

Any bathroom furniture (cabinets, tubs):

Patio Furniture:

Other favorite piece(s) of furniture not mentioned:

Worst furniture purchase:

General experience when buying furniture:
For my $.02: 
The Best Places to Buy Furniture (IMHO)
Couch/Sofa: Our main couches comes from JC Penney — Furniture Possibilities. We wanted something in a bright teal that was affordable and this one was under $600 — we actually got two about four years ago. They've held up well, all things considered (i.e. crazy boys jumping on them), and only now are we starting to see signs of wear/saggy cushions and things like that. Considering the price we paid I wouldn't be too upset if we have to get a new one in a few years. When we're looking for our "hopefully forever sofa" I think we'll be looking at Room & Board; I've coveted an Ian sofa ever since a good friend got one years ago. (Related: You might want to read our last discussion on how to pick kid-friendly furniture over at CorporetteMoms!)
Armchairs: We just got one from Joybird (the Eliot apartment chair) and love it — it's comfortable and seems really well made. I was nervous to order furniture on the internet but the fact that they send you swatches AND have a 365 day return policy made me feel better about taking the plunge.
TV stand: Can I pass, if I'm embarrassed? No? Ok — the main TV stand we use is one that my parents bought me at Best Buy… after law school. For my HUGE television (back when they were, like, huge boxes). It's gray MDF and dinged and has a general "MEH" aura to it, but we haven't really seen one that has inspired another purchase.
Rugs: We've had, at various points, rugs from Crate & Barrel, West Elm, FLOR, Joss & Main, Zulily, and so forth, and have always had pretty good experiences. One bad experience that wasn't the fault of the rug: the shag rug from Crate & Barrel wasn't a good fit for a crawling baby, so my MIL now has it. (I kind of got stabbed by a bobbypin my babysitter had lost in the rug that I hadn't seen, and shuddered to think what would have happened had my son found it.) The only place I won't buy rugs from is Ikea, if only because I feel like every time I go to the store I see a zillion fuzzballs floating around the store that, when I get to the rug section, I realize are all coming from shedding rugs.
Lighting: Another thing I won't buy at Ikea: lighting. We've just had some bad experiences there, although they were so long ago I'm forgetting the specifics. That said, we've had totally fine experiences from a bunch of random stores like JC Penney, Pottery Barn, Target, Amazon, Joss & Main, so go figure. (I like to drool over the lighting in Rejuvenation, but we haven't found a must-buy piece yet.) Oh, also, I fell in love with Tala pendants after a trip to ABC Carpet & Home and splurged, but be warned: they're very soft, low lighting, so not great for, say, kitchen pendants, where we have them.
Kitchen Table: Ikea for the win! We got a plain brown extension table and have no complaints for the price. Again, this was bought with the expectation that while the kids were small there would be lots of markers and glue projects and accidents and, hey, it has lived up to that.
Dining Room Table: We don't have a separate dining room table at the moment. Years ago I was thrilled to buy an expandable glass-topped table that I had once seen featured on Queer Eye for the Straight Guy (the OG version), and it turned out to not only be a pain in the butt when expanded to seat six (something about the placement of the table legs got in literally everyone's way) but having a table with a removable glass topper is not something I'd recommend for people with small kids or messy eating habits — I can't tell you the amount of gunk that would get stuck between the pane of glass and the sides of the table. Yuck.
Bedroom Set: My parents' wedding present to us was to help us pick out a nice set of furniture from Amish Country in Ohio (Homestead Furniture). It's still some of the nicest pieces of furniture we own. The kids' bedroom furniture is Ikea — the MALM line holds up really well (but make sure you anchor it to the wall if you've got kids!); we have one piece from the Hemnes collection that we haven't been as impressed with because the drawers keep coming off their tracks.
Mattress: We just bought a mattress a few years ago and I'm not impressed with it — I'd love to hear if you guys have any favorite mattresses.
Any bathroom furniture (cabinets, tubs): We haven't bought any tubs but I still love the Ikea/Godmorgon furniture I picked out for a mini-bathroom redo — I loved that that the cabinet had full-extension, soft-close drawers, and the mirrored cabinet has a ton of space (we actually got two of them).
Other favorite piece(s) of furniture not mentioned: We have a small side table from Ballard Designs that I really like — it's got tiny circular mirrors all over it and a general antiquey gold geometric design. The only problem is that the geometric design is open metalwork and my kids keep shoving tiny toys there, but hey… anyway that was my first purchase from Ballard Designs and now I drool every time I get a catalog. Oh, also, when we redid our kitchen a few years ago we used all Ikea cabinets and drawers and I liked the price, features like full extension drawers/soft close cabinets, and I liked that they were versatile enough to be changed out for other Ikea cabinets/doors if we wanted to down the line.
Worst furniture purchase: Gaaah our china hutch. We bought it before we had kids and it's this huge clonking piece that takes up too much room and, frankly, is lousy furniture — the drawers don't pull out all the way, the wood veneer is flaking off every time it gets dinged, the "dramatic mood lighting" lights are somewhat unpredictable. We got it from Macy's (along with a matching credenza) when we were newlyweds and we regret both pieces now — they were on sale but we still probably spent close to $3000 on both pieces. Very disappointing and we haven't been back to Macy's for furniture purchases since. (To be honest, getting all the wedding china was also a mistake, but that's a discussion for another post — here's our last discussion on what to put on your wedding registry.)
General experience when buying furniture: We've definitely had a mix of high and low, and honestly we've had better luck with the "disposable furniture" pieces than we have with the "forever" pieces. I have strong opinions on a lot of Ikea's offerings, obviously — we've also had good luck with random chairs from Ashley Furniture in terms of comfort/durability/price/style — they're also sold through Joss & Main and JC Penney in case you prefer those shopping experiences. We love browsing at places like West Elm, Crate and Barrel, CB2, and Pottery Barn — but I often feel like the same style of furniture can be found elsewhere for less money, once you know what you're looking for.
Readers, over to you — where do you think are the best places to buy furniture? Are you browsing for anything this Labor Day weekend? Do you buy furniture over the internet, or do you prefer to see furniture in person? What furniture stores do you implicitly trust or turn to first for style — and which ones are in your "yuck, I'd never buy furniture there" lists?
Stock photo via Deposit Photos / londondeposit.