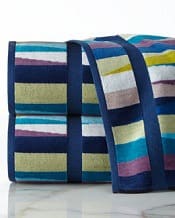 Which are the best towels? What factors should matter? Last month we talked about the
best sheets
 for the home — and today we're looking at the best towels. Reader K wonders…
Hi Kat, again, love your blog. I am curious as to whether you and the readers have found THE BEST towels. I am ready to do this purchase right and want to know if anyone has scoured/tested the best products so that I am not reinventing the wheel. Soft and luxurious while getting the job done. Thanks!
Great question, K — I'm curious to hear what everyone else has found. I just splurged and bought some
Missoni towels
from Horchow through one of their midday ClickTock sales, and I'm always on the hunt for vibrant towels with saturated colors, which I'll admit has been my main determinant for which towels I've bought. (For some reason white towels have always seemed terribly impractical to me, unless they're designed for bleach.) I haven't had the best luck in general with towels — I splurged on some towels (even got 'em personalized) at a fancier department store a few years ago and was bummed to find that, while they were fluffy, they weren't terribly absorbent. So let's research this together (alas, the Missoni towels don't make anyone's list!)…
The Sweet Home has a very thorough article (as always), last updated May 2015. They tested a dozen towels on factors like softness, absorbency, durability, and affordability — I'll have to give their $25, eco-friendly winning towel a try.
Good Housekeeping, after testing 55 lines, likes Macy's Hotel Collection towels, which I think I've had before and liked (not like "OMG this is the best towel I've ever tried in my life!" liked, but, you know, "this towel doesn't annoy me and seems to function" liked). GH apparently only tested three or four brands, though. Interestingly, they recommend washing your towel every 3-4 uses — I will have to change that one-week cycle I've had them on! (Towels aren't supposed to bend, right?) (Kidding.)
Into the Gloss rounds up some towels, and this sentence encapsulates the experience I've been looking for (and missing) with my towel travels through the years: "The first time I ever tried Restoration Hardware's 802-Gram Turkish Bath Towel, I was visiting a friend's family home, and felt so pampered and glamorous that I made a mental note to build a home of my own around towels like this later in life." Wow. That's what I'm talkin' about! (Restoration Hardware is actually having a sale right now on all towels, so a bath sheet comes to $19-$23 today.)
Apartment Therapy has a roundup of "luxury towels for the rest of us."
Amazingly, Consumer Reports has no opinion on the matter. (They do have a ton of research regarding the best paper towel, though, which was interesting — I've never focused on the quality of my paper towels. Since having kids we keep a huge "rag bag" filled with old towels and washcloths that we use all the time for any major spills.)
Sadly, no one seemed to have an opinion on which is the best towel to take if you're about to do some
interstellar hitchhiking
. Finally, a shoutout to two hair towels that I've used for years:
Aquis hair towels. I must have half a dozen of these towels — great for wrapping your hair up when you get out of the shower, as well as puttering around the house while letting your hair air dry (throw the towel around your shoulders to keep your shirt dry).
Turbie Twist towels. As my hair has gotten curlier I've moved to these for any attempts at "plopping" — I flip my head over in the shower, apply product/finger-comb, scrunch out water, and then do my best to collect my curls in the "cap" part of the towel at arm's length. I use two hands to put the cap on my head, all while upside down, then I take the "tail" part of the towel, twist it up and button it. Old t-shirts are supposed to also be amazing for curly hair, though!
Ladies, which are your favorite towels? Do you look for pretty towels, absorbent towels, or quick-drying towels? Have you ever been disappointed by a towel purchase? 
—————
N.B. These substantive posts are intended to be a source of community comment on a particular topic, which readers can browse through without having to sift out a lot of unrelated comments. And so, although of course we highly value all comments by our readers, we're going to ask you to please keep your comments on topic;
threadjacks will be deleted at our sole discretion and convenience.
Thank you for your understanding!
We are a participant in the Amazon Services LLC Associates Program, an affiliate advertising program designed to provide a means for us to earn fees by linking to Amazon.com and affiliated sites.