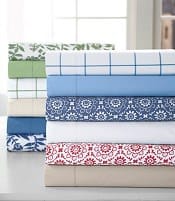 We've talked about a lot of lifestyle things over the years on this blog — but we've never really talked about the home component! So first up: let's discuss sheets.
Which are your favorite sheets? Do you splurge on 1000-thread count luxury linens like Frette, or do you prefer highly-rated, well-reviewed sheets like L.L. Bean's? Perhaps more importantly, who do you trust to tell you which sheets are good (particularly when "thread count" is often a work of fiction)? How often do you buy new ones?
For my $.02, I do believe that good sheets are worth the splurge — life is too short to deal with the breaking-in period with scratchy sheets! When we moved my son from the crib to the big boy bed I spent a good amount of money on sheets for him with this in mind.
Update: As of 2021, Kat's favorite sheets for summer include Lands' End linen sheets and LL Bean's percale sheets. (N.B. that linen sheets aren't for everyone!) If you're on the hunt for winter sheets, the heavier flannels are the best, including Eddie Bauer's Portuguese flannel (generally 5.4 oz), Lands' End (5 oz-6oz), and Garnet Hill. Hunting for the best sheets on a budget? These are reader favorites!
I first spent a lot of time and energy researching the best sheets for my parents' 30th anniversary back in 2002, which at the time meant trekking to the library to pull an old issue of Consumer Reports, as well as running a few searches on my student Westlaw and Lexis account.
My parents had never really had "luxury" sheets, and couldn't believe how much better the L.L. Bean sheets I wound up getting them were — my whole family has never looked back.
In terms of where to go, readers turned me on to review site The Sweet Home a while ago. It's great because it's a free resource, and if you only want to read a paragraph or two you can, but you can also learn a lot more through their extremely detailed reviews.
I also trust Consumer Reports and have subscribed (and then cancelled) a zillion times over the years. I don't own any of their top recommended satin sheets, though — the Wamsutta 1000 — and may have to give them a try.
In terms of how many, how often we buy, etc. — we don't have a huge linen closet, and I hate to underuse perfectly good sheets, so we only have 2 or 3 sets for each season at any given time… we generally use them until there's some noticeable problem (a rip, the elastic stops working, etc.).
Ladies, how about you? Which sheets are your favorite? Are there any fancier ones you snap up any time you see them on sale? Those of you who travel often, have you found any must-buy sheets after sleeping on them at fancy hotels?
Some great sleep aids if you're struggling with sleep issues…