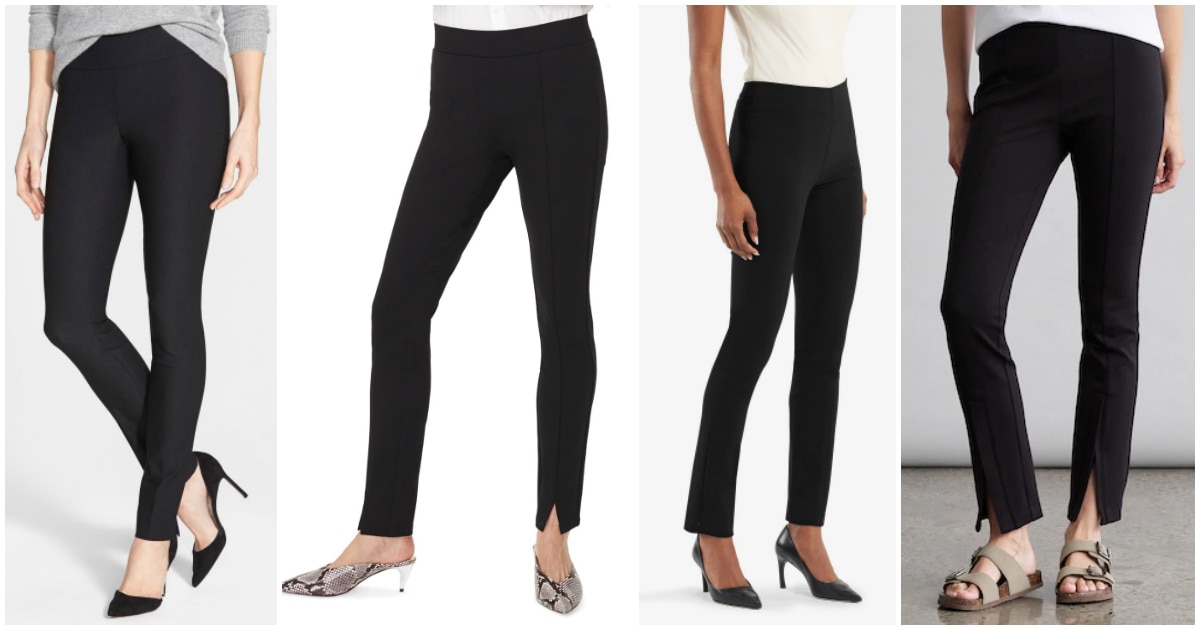 There's a trending article on whether you can wear leggings to work right now, and I thought — oh man, we haven't talked about that in years. So let's discuss. Before everyone has a kneejerk reaction, I'm curious — what are the most comfortable pants that you think are acceptable to wear to work? What are the tightest or most body conscious pants you DO consider acceptable to wear to work? Do you wear some pants to work that are sold as leggings — but actually just feel like pants to you? On the flip side, do you have some pants that are sold as pants — but that you recognize are just slightly fancier versions of leggings? If you COULD wear leggings to work, would it be more about comfort or the style for you?
This post contains affiliate links and Corporette® may earn commissions for purchases made through links in this post. For more details see here. Thank you so much for your support!
Pictured at top: one / two / three / four
Here's a quote from the article, Is it Weird to Wear Leggings at Work?, by Olga Khazan, in The Atlantic:
… I would argue that tights are better than pants. Working in leggings is approximately 400 times more comfortable than working in literally any other garment. I sit for at least 10 hours every day. Sitting for that long is not comfortable in regular pants. The waist band digs in, the legs ride up, and, depending on how long in the pelvis you are, the crotch gets more intimate with you than is common on Tuesday afternoons.

All of this led me to wonder: Is it okay for me, or any woman, to wear these puppies to the office regularly, or what?
It's a really interesting point. Years ago, Buzzfeed staffer Amy Sly had a seminal decision chart on leggings vs. pants that, I thought, settled a lot of the major contours of the debate — such as, is the Lycra/Spandex% higher than the cotton %? Can you wear them to yoga? Are strangers complimenting you on your underwear?
A few notes from discussions we've had here before I open it up to reader discussion:
2020 Update: these are some of our very favorite comfortable pants for just this situation:

Readers, what are your thoughts — are you noticing more and more people wearing "leggings" to work in a negative way? Thinking about it now, might you be wearing, essentially, leggings to work? What are your favorite leggings for work or leggings-substitute for work?