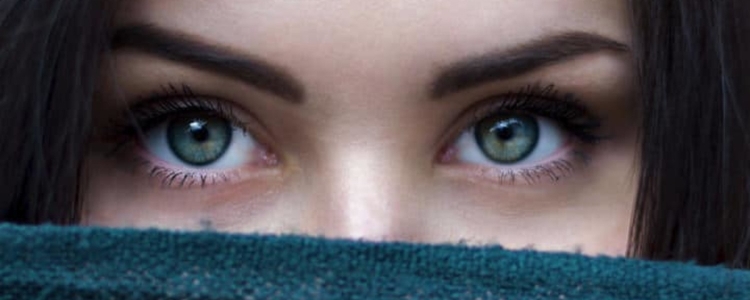 2021 Update: This post about Kat's experience with dry eyes was originally published on Apr. 4, 2012, but we've updated links and images below… so we're changing the date to allow for newer commentary. If you're working from home temporarily, it's a GREAT time to give your eyes a break from frequent contact lens wear — these are some of our favorite for
This isn't entirely a "beauty Wednesday" feature, but as we head into spring allergy season I thought I'd remind everyone to take very good care of your eyes, particularly if you wear contacts. You see, I had a serious scare with my eyes because when I first started working at my law firm, I didn't know four things:
a) how dry the office air was
b) how dry my eyes were naturally
c) how much allergies affected my eyes — it never occurred to me to check beneath the lids of my eyes to see all the little raised bumps that allergies put there
d) how surprisingly easy to do serious damage to your eyes if you have the above 3 conditions and are also not taking the best care of your contacts
{related: online eyeglasses for women}
The first year at my law firm, I wore contacts about 90% of the time (contacts I was supposed to wear for 8-12 hours a day and throw away every 2 weeks… neither of which happened), and loved (LOVED) to get home after a long day at the office and rub my eyes for like a minute. Aaaaah – felt so good! When allergy season hit, my lack of knowledge (those damned little bumps!) meant I was done for — unbeknownst to me, I was basically exfoliating my corneas.
It probably didn't help that I was working long hours — 16-18 hour days weren't that uncommon. Over the course of a few weeks, my eyes turned a little pink, then got watery. Then I noticed that my vision was blurry, even if I was just wearing my glasses. (Actually, especially if I was wearing my glasses — so I wore my contacts more.) One day, I met my younger brother for lunch near the office, and he grabbed my shoulders, leaned close to inspect my eyes, and said, "Kat, your eyes look sick. Like, yellow and dull." I went back to the office and found an eye doctor.
The next day, the ophthalmologist took one look and sent me to a cornea specialist. He looked through his scope, and began drawing what he said was my eyeball — first a big circle, then lots and lots and lots of little circles. He started dotting at the paper, almost making jabbing motions.
"This is what you're doing to your eyes," he said. I hadn't hit the cornea — yet — but I was very close to rubbing through the layer that protects your cornea. He ordered me to stop wearing all eye makeup, to wear nothing but glasses, to rest my eyes whenever I wasn't using them, and — oh yes — to keep a pretty vigorous, semi-hourly routine of drops, some OTC, some prescribed.
(For years after this I kept using the OTC stuff — Theratears Gel — every night before I went to bed, and highly recommend them to anyone who has dry eyes.) Leaving his office in my eyeglasses, I realized I could barely see the difference between the street and the curb.
Long story short: after about two weeks of this routine, I was back in eye makeup and contacts, and could pack my audiobooks away, but I learned a lifelong lesson: never take your eyes for granted! According to my cornea specialist (who I still see every six months), it took about a year for my eyes to recover completely. I consider myself very, very lucky.
What I Learned about Caring for Dry Eyes
Some major tips I learned from the experience:
1. If your eyes are itchy because of allergies, avoid rubbing your eyes. 
I still remember how much I loved to rub my eyes — but these days if I'm not removing eye-makeup, I'm not touching my eyes.
2. Blink! If you have dry eyes, try to blink more often.
If you're using a computer frequently you're probably blinking less — there are actually apps you can download to help you remember to blink. Take a break every hour from the computer and try to really focus on blinking more frequently.
3. Be wary of using Visine to get the red out if your eyes are red — at least, not on a daily basis.
If you have a big meeting and want your red eyes (either from allergies, dryness, or whatever reason) to go away, maybe break out the Visine — but it's actually drying to your eyes, which only exacerbates the problem.
Use a product like Theratears to keep your eyes moist throughout the day, and talk with your eye doctor about whether prescription drops are appropriate to help with your symptoms.
This post contains affiliate links and Corporette® may earn commissions for purchases made through links in this post. For more details see here. Thank you so much for your support!
4. Reconsider wearing daily contacts if you have dry eyes, a dry office, allergies, or all of the above.
At the very least, get a pair of glasses to keep at the office so you can take your contacts out if you're working late. 2017 Update: Here's our latest discussion on affordable eyeglasses you can get online.
5. Consider getting a humidifier if your office air is dry.
Humidifiers can really help with dry office air — but be careful to clean it regularly — the mold can be even worse for your health.
6. Follow the directions on your contact use.
While my contact use wasn't egregious (I wasn't sleeping in them, although I did probably wear them for 16 hours, and keep a pair about 4x longer than directed), my eye doctor recommended I wear glasses most of the time after this incident.
I tried rigid gas permeable (RGP) lenses for a while, but now I ultimately prefer single-use contacts for dry eyes. (I looked into LASIK for myself, and while my regular doctor thought I could do the procedure, a doctor I saw for a second opinion said he wouldn't chance it, considering how dry my eyes are.)
2021 update: I also haven't found a lash booster serum that works with my dry eyes — if you find one please let me know! (And if you're using one and having trouble with dry eyes… maybe stop that.)
Ladies, have you had any health scares caused by seemingly normal activities? Do you suffer from allergies, dry eyes, or other eye woes?