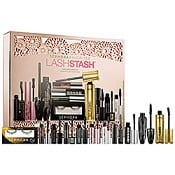 This may well be one of those moments where I'm the insane one, but here's a question for today's open thread:  how do you apply mascara?  I'll admit: I haven't done a total survey of the field here, but every YouTube makeup tutorial I've ever seen has women applying mascara as the very last step when they're done with their makeup — and some of them even curl their lashes after the mascara is on them. But what I do is completely different, and over dinner with a girlfriend recently we wound up having a 30 minute conversation about it, so I thought it might be interesting to ask the readers.
(Pictured:  For those of you really into mascara, the Sephora "Lash Stash" gift set is a must — $145 worth of mascaras for $45. It's limited edition for the holidays.)
For my $.02: I don't know if it's the shape of my eyes or the length of my lashes, but I always, always, always get mascara on my eyelids. Always. (I would describe my lashes as being of average thickness and average length (maybe a teeny bit longer than most?) but with no natural curl to them whatsoever — their natural tendency is to point down; my eye lids are fleshy enough that not a lot of my lower lid is exposed in general.) Something about this combo means I get mascara all over my lid — so if I were to apply mascara the very last step of my routine, I would totally screw up my eye makeup. Instead, for me mascara is one of the very first steps, generally right after I put my concealer under my eyes. For those of you interested in my routine, here it is, in all of its gory detail:
1) I curl my lashes first. I suppose "crimp" is the better verb — I try to crimp them in at least 2-3 places along the lash so they look my curled. I tried once curling them after I'd applied mascara and it was a sticky mess! Right now I'm still committed to the Shu Uemura lash curler, but I'm curious to hear if you guys have any other favorites.
2) After my lashes are curled, I apply my mascara, wiggling the wand as close as I can to coat the base of the lashes so they look fuller and thicker, then flicking upwards. (I only apply to the upper lashes unless I'm doing my makeup for a rare Corporette video, in which case I may put a teeny tiny bit on my lower lashes.)  Right now I'm still using Lancome's Defencils mascara (link) for every day, but will probably switch back to my beloved Voluminous when this tube runs out.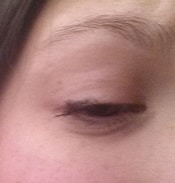 3) This leaves me with mascara all over my lids — so then I dip a Q-tip in a bit of hand lotion and wipe off the mascara that is not where it should be.  Generally I just use Curel, but I'll also use face lotion or makeup remover if that's handy too. (I've always figured this is also good for moisturizing the skin near my eyes anyway.) I almost always apply liner to the top lid, so I don't worry about getting too close to the base of my lashes with the Q-tip. (Pictured: me, with no other makeup on, but with my eyelid covered in mascara!)
4) If I'm applying other makeup (eye shadow, liner), I generally wait a few minutes here to let the lotion absorb fully — I'll tend to my lips, hair, jewelry, or clothes while I'm waiting, or check to make sure whatever I need is in my bag.
5) If, when adding eye shadow or liner, I manage to get some over the mascara, I add a quick second coat of mascara.  I really just focus on the upper part of my lashes, not the base — I generally find this is enough to get rid of the eye shadow-over-mascara look but not so much that I end up with clumpy eyelashes.
If I'm adding false eyelashes (which is something I'm still learning to apply) then I'll save them for near the end — the only thing to come on top of them is eye liner. (I usually don't put mascara on false lashes.)  If I'm refreshing makeup (sans false eyelashes) several hours after I've applied it (say, to meet my husband out for dinner), then I may do another swipe of mascara, as well as using Touche Eclat and adding more blush like Nars The Multiple (in Orgasm).
All right, ladies, let's hear it — how do you apply mascara? Do you curl (and if so, when in your routine)?